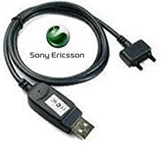 DCU-60 is the popular Mobile phone to USB cable connector. DCU-60 can be used to connect mobile phones of Sony Ericsson. The sole reason of connecting mobile phones to computer is to backup mobile phone content, transfer songs & files, add new themes, update firmware, restore backup, archive SMS messages etc.
You need to use mobile phone PC suite to sync & backup mobile phone content however before you use DCU-60 cable to connect your Sony Ericsson mobile phone you must install drivers of respective Mobile Phone model.
Unfortunately if you have got DCU-60 cable from auction or online stores like eBay, then chances are high that you won't get drivers CD along with cable, also it is very difficult to get the drivers from Sony Ericsson website. To simplify your task we have collected download links of DCU-60 drivers for all Sony Ericsson mobile phones models.
Download DCU-60 Drivers for Sony Ericsson Mobile Phones
All Sony Ericsson USB Singed drivers (Torrent Link)
Sony Ericsson USB Cable Drivers fro All Models (Rapidshare Link)
DCU-60 Cable Drivers for Sony Ericsson Models (MegaUpload Link)
How to Install Drivers
1. Download DCU-60 Drivers using any one of link, extract file content on desktop.
2. Connect your mobile phone via DCU-60 USB cable to PC.
2. Now right click on My Computer, select "Properties" from context menu.
3. Go to hardware Tab and click on device manager
4. Select action-> scan for hardware changes
5. When your computer detects a new hardware, choose install drivers from specified location and browser and locate folder of drivers extracted in step 1.
6. Now complete driver installation.
Check out :- Create Sony Ericsson Themes with Sony Ericsson Theme Manager