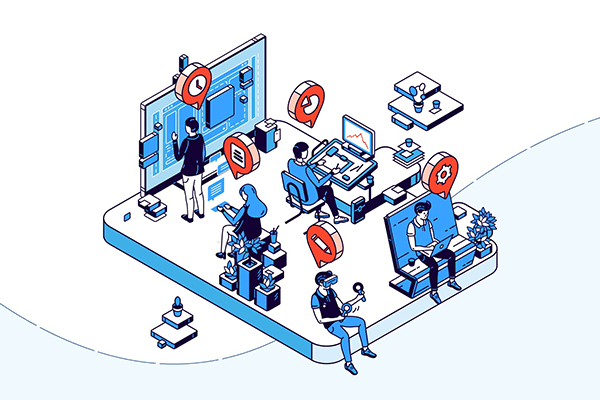 Are you considering using a dedicated software development team for your project? Have you heard about the benefits of outsourcing but are unsure about where to start?
In today's technology-driven society, companies must have a strong digital presence to remain relevant and competitive. Developing quality software is a significant aspect of building an effective online platform. Yet many businesses struggle with developing their own software in-house effectively.
This is where dedicated software development team come in. These teams offer businesses the chance to work with specialized developers who can provide reliable, high-quality solutions that meet specific business needs. This article will serve as an introduction to dedicated software teams, outlining what they are, their benefits, and how to know if they could be the right choice for your company's next project.
Benefits of Hiring a Dedicated Software Development Team
In today's tech-driven world, every business is looking for ways to be more efficient and competitive. One strategy that has gained popularity among businesses of all sizes is hiring a dedicated software development team. Unlike outsourcing or contract work, this approach allows companies to build their own in-house team that works exclusively on their projects. Here are some of the benefits of hiring a dedicated software development team for your business:
1. Expertise and Experience
A dedicated software development team usually consists of experienced developers who have a wide range of expertise in various programming languages and tools. By bringing together such talent under one roof, companies can access a broader range of skill sets than they would by working with contractors or freelancers.
2. Better Communication
Working with an outsourced software development team can be frustrating due to communication challenges, including dealing with different time zones and language barriers. Hiring an in-house team will ensure that you always have direct access to your developers, making it easy to communicate updates or changes in real-time.
3. Quality Results
When you hire a dedicated software development team, you exercise much greater control over the quality of work being done compared to when you outsource the task. Your in-house developers will understand your company goals and culture better which leads them to deliver better results.
4. Cost Efficiency
By retaining your own dedicated software development team, you will avoid additional expenses associated with outsourcing or hiring contractors since all members are paid as employees through regular payroll administration — resulting in continual high-quality performance instead of settling for temporary hires whose capabilities may not match that of core workforce capacity.
5. Full Control Over Projects
Extremely beneficial when there are confidential projects since ownership and confidentiality clauses can be set with full knowledge levels achieved throughout operations thus giving full owner control over completed outcomes —greatly impacting accelerated efficiency without compromising quality.
Building a Remote Dedicated Software Development Team
With the advancement of technology, remote work has become a new norm for many businesses worldwide. For software development, building a remote dedicated team can offer several advantages such as access to a global talent pool, cost savings, and flexibility in working arrangements. If you're planning to build a remote dedicated software development team, here are some steps you can follow.
Finding experienced developers with strong technical skills is essential for building a successful remote dedicated software development team. Platforms like Toptal and Upwork allow businesses to hire skilled and seasoned developers from all over the world on an hourly or project-based basis.
Read article about a dedicated development team that can reveal the problem of managing a remote specialized software development team is communication. Using appropriate communication tools, such as video conferencing, instant messaging, and other collaboration tools, is critical to ensuring that all team members understand each other and can adhere to project goals.