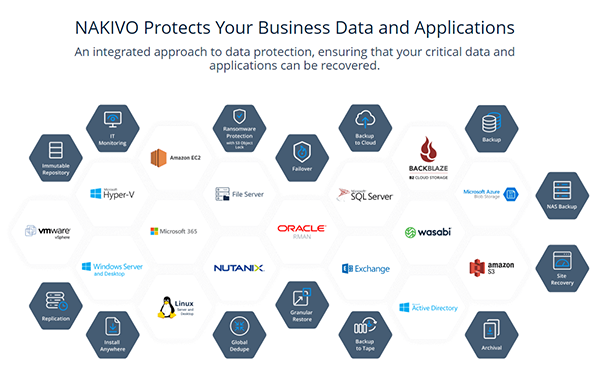 The overall volume of data that organizations generate, store and manage has been growing at an exponential rate. The average volume per organization is also growing, making businesses more dependent on system and data availability. Evolving hacking tools and ransomware used to access this pool of critical data pose additional challenges and shape new requirements for data protection.
Proper data protection management can make or break today's SMBs and enterprises, regardless of their industry. The remote work model that has become the new normal after the COVID-19 outbreak puts an even greater strain on data accessibility, integrity and security.
Organizations now look for more efficient and flexible ways to manage the complex data and security landscape while keeping their IT budgets in check. NAKIVO, one of the world leaders in data backup and disaster recovery, focuses on data protection efficiency while remaining one of the most affordable options on the market. The company has a global presence in 171 countries with tens of thousands of customers, underscoring NAKIVO's understanding of the data protection and management challenges facing organizations today.
Helping Customers Save Costs and Time with Reliable Data Protection – NAKIVO's Approach
Founded in 2012 by Bruce Talley (formerly CEO of VirtualFabrix and CoroSoft), NAKIVO is a privately held IT company with headquarters in Sparks, Nevada, USA. With its solution NAKIVO Backup & Replication, the company offers an all-in-one package of backup, instant recovery, disaster recovery and monitoring functionality coupled with solid anti-ransomware options for physical, virtual, cloud and SaaS environments.
"We have developed a universal solution helping customers save money and time on data protection management, while maintaining top performance in production and backup infrastructures," says Director of Product Management at NAKIVO Veniamin Simonov. "Reaffirming data backup as the only reliable way to maintain the integrity of data after a data loss incident, NAKIVO goes above and beyond providing backup functionality. Our solution delivers the tools customers need to protect and recover data in all types of environments from a single dashboard."
NAKIVO understands the cybersecurity threats to data protection management, and that malicious actors today target not just production data but also backup infrastructures. An important capability available to NAKIVO customers is immutability for backups in local and cloud repositories. When immutability is enabled, backups are protected against ransomware encryption and deletions. Customers know that they can recover their data in no time and without paying hackers.
This all-encompassing approach to data protection explains NAKIVO's track record: NAKIVO Backup & Replication has top ratings from users on leading IT communities such as Gartner Peer Insights, Spiceworks, TrustRadius, among others. This reliability comes at an affordable price for customers and with a flexible licensing model. This model still includes a perpetual licensing option in addition to subscription pricing.
For instance, the University of Colorado Denver runs VMware VMs to store the helpdesk system and student databases, as well as some legacy systems and backup servers that should be accessible 24/7. With the Flash VM Boot technology in NAKIVO Backup & Replication, web developer at the University of Colorado Denver Matt Mitchell "can recover VMware VMs within 10 minutes" and also saves time on backup administration as he "does not waste time on failed backups anymore".
"Long backup windows are another problem for backup admins, reducing the overall IT infrastructure performance, consuming huge resources," says Veniamin. "But with NAKIVO, you can overcome such issues. One of our customers cut the backup window by 80% and backup storage requirements by 30% after switching to our solution."
Another mark of data protection efficiency with NAKIVO is the significant cost reduction. Pablo Kalik, Corporate Systems Manager at Alvear Hotels, states that the solution helped them "save 30% on backup administration as well as thousands of dollars."
Future Plans: Continuous Feature Development
According to Veniamin Simonov, NAKIVO continues to develop the solution to better meet new data protection management and cybersecurity challenges. NAKIVO releases new versions of the data backup solution every quarter to keep the offering up to date. The latest 10.8 version of NAKIVO Backup & Replication was released in January 2023, introducing more cloud destinations for backups, improved backup retention and more features to simplify data protection administration with NAKIVO backup solution for MSP.
NAKIVO Backup & Replication is available with perpetual licenses or subscriptions. The company offers a Free Edition with the basic functionality and a 15-day Free Trial version without feature or capacity limitations.