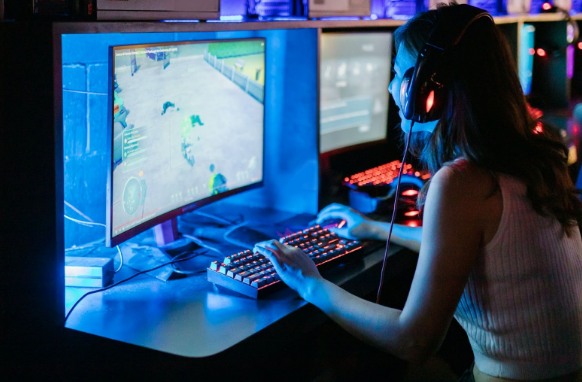 Want to make a gaming video? Then you'll need a fitting video editor. However, choosing a serviceable program can be as difficult as finding a game to play. Thankfully, we can help you with the former. We've done the legwork for you and compiled a list of the best video editing software for gaming, so that you don't have to dive into the immense ocean of available software on your own.
Video Editors for Gaming [Best Picks]
1. Lightworks
Lightworks is a pro-tier video editor used in Hollywood productions. Under the hood, it has anything a gaming video editor should have. Although you have to get a paid version to access the entirety of its toolkit, Lightworks still offers plenty of free features to edit your gameplay sessions. You can embellish your footage with royalty-free audio and video, or try using multi-camera mode, if you wish to experiment with filming.
However, the status of a high-end program comes at cost. Only very minimal starting instructions are provided, and there is no actual help available for new users. Plus, the free version supports a lot of video file formats, but has limited rendering options.
Useful features:
Multi-camera recording
Stock media library
Extensive toolkit
OS: Windows, Linux, macOS.
Paid version: from $9.99/month
2. Clipify
If you are planning to release tons of videos on a regular basis, then Clipify is the gaming video editing software  for you. Its automatic features will help streamline your workflow. And the rest of its toolkit is fairly easy to use – Clipify is designed with the needs and skills of casual users in mind. It is capable of chroma-key editing, webcam feed capture, and everything you need to create videos and montages that stand on par with other YouTube content. Clipify also has very lenient system requirements and runs smoothly on a mid-end PC.
Cons include the fact that Clipify is currently only compatible with Windows only. It may also lag a little while processing huge volumes of data.
Useful features:
Automatic tools
Voice-over recording
Stock media library
YouTube-ready rendering
Webcam capture
OS: Windows.
Paid version: from $29.40/year.
3. OpenShot
Gaming can get quite pricey. OpenShot, on the other hand, will have no strain on your budget at all – it is an open-source and free video editor, which makes a great starter for aspiring content makers. In addition to essential editing tools, it offers features like visualizing sound as a waveform, 3D animated effects and titles, unlimited number of layers, and more. The intuitive drag-and-drop interface makes this app easy to master.
The greatest downside of OpenShot is that it is unpolished and may have performance hiccups every now and then, but this is a common issue for independent projects.
Useful features:
Unlimited layering
3D animation
Drag-and-drop interface
OS: Windows, Linux, macOS.
Paid version: none.
4. EaseUS Video Editor
EaseUS Video Editor is a great option, if you wish to focus on substance, rather than style. It is a popular and accessible tool for video making enthusiasts, including gamers. Its simple workflow lets you cut, trim, perform color grading and correction, apply effects and filters, record voice-overs, and share the result directly to YouTube or other platforms. And if you run into trouble – tech support is free and always available.
EaseUS Video Editor is not perfect, though. Its simplicity comes at the cost of lacking advanced tools, and the free version is limited even more. Still, give it a shot – it may not offer much, but might offer enough for what you are going to do.
Useful features:
One-click effects
Direct-to-YouTube export
Voice-over recording
OS: Windows
Price: from $17.97/month.
Conclusion
And that's it! These are but four options out of a great number of video editing software for gaming out there, but they are diverse enough for you to see, which offers an approach that fits you best. There are many ways of making an engaging gaming montage, so keep trying things out and you'll definitely find yours!