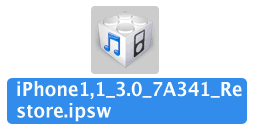 The long wait for iPhone OS 3.0 Jailbreakers is over now as iPhone Dev Team has released their popular jailbreaking pwnagetool 3.0 for Mac OS X. However Windows users need to wait for some more time as QuickPWN for Windows is not yet available.
Well don't worry for Windows users we have got Custom ipsw of Firmware 3.0 which you can restore on iPhone 3G, 2G & iPod touch first Gen to Jailbreak and Unlock without going through long steps of jailbreaking.
Those users who want to manually jailbreak and unlock iPhone 2G 3.0 may follow this guide and Quickpwn guide to jailbreak iPhone 3G OS 3.0.
Below are the links for Custom Firmware (ipsw) for OS 3.0, read FAQ at end of this post to know more about custom ipsw firmware files.
Download Custom Firmware (ipsw) For iPhone 3G 3.0
http://www.megaupload.com/?d=BT9WRLFI
Includes :-
1. 595MB Partition Size
2. OpenSSH installed
3. SBSettings Installed
4. No Unlocking you have to wait for Ultrasn0w
Download Custom Firmware (ipsw) For iPhone 2G 3.0
1. Cydia Installed
2. Unlocked & Jailbreaked
You Must pwn your iPhone 2G 3.0 with PwnageTool 3.0
http://www.megaupload.com/?d=DHDTBXX0
Download Custom Firmware (ipsw) For iPod Touch 1st Gen 3.0
1. 1 GB partition
2. Cydia Installed
http://www.megaupload.com/?d=83P0F4NP
How to Update Custom Firmware Files
1. Enter your iPhone 3G, 2G & iPod Touch into DFU mode
2. Hold the home and power buttons for 10 seconds
3. Release the power button and hold the home button for 10 seconds
4. Now start your iTunes 8.2 which will detect your iPhone DFU Mode
5. In iTunes 8.2, hold the Shift (windows)/Option (Mac) key and click "restore" at the same time & Select above downloaded Custom ipsw files.

FAQ :-
What is Custom ipsw ?
Custom ipsw is hacked version of original firmware files released by apple. Usually its this custom .ipsw is created to add cydia installer and other packages which we refer it as jailbreaking and hacked baseband to unlock with any carrier around the world
How to Create Custom ipsw firmware for OS 3.0 Software Update  ?
The process of creating custom ipsw firmware is pretty long, check out guide to Jailbreak & Unlock  iPhone 2G 3.0 and follow steps 1 to 16.
What tools are needed to Create Custom ipsw ?
PwnageTool, Bootloader files and bootnuter. Pwnagetool must be compatible with firmware version for which you want to create custom ipsw firmware file. For e.g PwnageTool 3.0 lets you create custom ipsw for OS 3.0 software update
Please Note: We have Not tested any of above custom firmware files, use it at your own risk. We will not be responsible for any damage which may occure to your iPhone & iPod Touch.