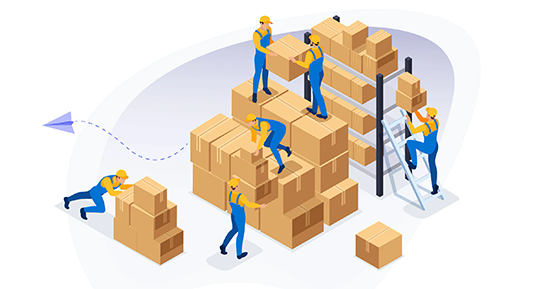 Real-time inventory management is essential when running a business. It usually involves using the right tools to track your stock and manage your inventory. Good inventory management improves supply chain resilience. You restock on time and prep for any unexpected shortcomings while running your business smoothly.
Manual inventory management brings different issues. You have to process orders from each sales channel separately to do regular manual stock checks so you can adjust your stock levels across each platform. All of these processes take a huge amount of time, and that time would be better spent expanding the business. The time taken to reconcile this information can also result in a lack of visibility on real-time stock levels, time wastage in reordering when stock levels are low, and therefore, stockouts and missed sales.
How Real-Time Inventory Management Benefits E-Commerce
Inventory management plays a significant part in both physical and online businesses. Not having a real-time inventory management system can be very detrimental to the success of your business. The system will alert you when you need to replenish your stock. Below are some of the main benefits of real-time inventory management.
The first benefit is quite obvious: inventory control in real-time. This gives you a chance to keep track and stay in control of your stock. You will know how many items are available in the warehouse, how many products are on the shelf, and how much of it is on the way out to customers.
Ideally, this will also come in handy if you operate multiple warehouses. You can make necessary business decisions such as knowing which warehouses need to be restocked. There are inventory tools in the market that allow business owners to split the inventory between multiple warehouses.
Benefit number two is getting accurate inventory data. Not using the right tech can lead to errors. Oftentimes, this can lead to issues such as stock theft, overstocking, or loss of products. Both overstocking and understocking can have serious repercussions on your business, especially when it comes to profits and losses.
Integrated inventory tools will help you have real-time data on what is happening in your warehouses. Overall, you will stay safe from running into challenges that may affect logistics and also bring in losses to your business.
Supply and demand patterns often fluctuate depending on seasons or may be influenced by things such as the price of commodities. Real-time inventory management can give you insights into how products are moving. You can use the data to plan for the future to avoid under or overstocking. The system will ensure that you always have a safety stock all year round based on the historical trends and data.
The supply chain is a vital part of any business. Good real-time inventory management will help you keep an eye on the supply chain so that you can make changes as needed. Inventory management usually relies on factors such as production and receiving timelines.
The inventory data can give you hints on whether there is a need to improve the production and receiving timelines. Besides that, you can also improve on logistics while cutting out extra expenses.
Customer experience is also a huge factor that is influenced by logistics and inventory management. You can identify fast-moving products and when they need to be stocked. This will prevent late orders or customers from getting delayed deliveries due to a breakdown in logistics.
Challenges Related to Real-Time Inventory Management
As an e-commerce owner using Virto Commerce, you will encounter several challenges when it comes to inventory management. This will happen often, especially if you don't have real-time inventory management. Using papers or spreadsheets will make the process more hectic. Also, if you're managing multiple warehouses, chances are you will use more money and you might err in some cases.
A good real-time inventory management unit should connect all parts of your business involved in the supply chain. The idea here is that whenever you sell an item, the inventory should be updated in real-time. Besides that, the unit should also be integrated with other inventory systems such as planners to help make an order from the manufacturer, for example.
Real-Time Inventory Management Solutions for E-Commerce
When it comes to inventory management, it's not a case of one-size-fits-all. You can pick and choose from a variety of inventory management techniques.
Good real-time inventory management solutions help improve your supply chain network. You can also make customer deliveries fasters, which boosts customer experience. Nowadays, there are plenty of inventory solutions on the market.
When choosing a real-time inventory management unit for your business, there are a couple of things you need to consider. The first is if it can be integrated with other solutions such as point-of-sale systems. You will come across point-of-sale units that come integrated with inventory apps.
The other thing you need to check is the availability of devices such as scanners or wearables for capturing product SKUs. These devices allow you to capture the data faster and more accurately. The devices also updates your inventory system in real-time without you having to key in any details.
Price and budget will also play a significant role. If you're managing multiple online shops then you might need a more advanced real-time inventory management unit. However, for SMEs, you can go for open source systems and integrate other features on the go.
The best way to keep track of your inventory is via a modern real-time inventory management app. This way, you can get rid of spreadsheets and papers, which may bring in multiple errors. It also takes plenty of time and is quite hectic, especially if you're dealing with multiple warehouses.
Wrapping Up
One of the biggest benefits of using an inventory management system is automation. Besides that, using an inventory management system helps prevent overselling, which can damage your brand and customer experience. An inventory management system can also help you make better decisions about your stock levels and improve your overall business efficiency.