Someone said: "Amazing things will happen, but only if you're brave enough to get started". With this in mind, you'll certainly get some inspiration for developing yourself in a specific aspect you're interested in. For the filmmaking industry, learning the fundamental knowledge of film shooting and editing is simply a must: the basics of film production can be helpful for creating your special shooting style and, of course, a unique masterpiece of yours!
So, if you have decided to learn the basics of filming and are ready to get started as soon as possible, this guide will certainly come at hand. Here, you'll discover the essential steps of film production in detail, find out the effective tips creators use in the process, and get some more inspiration for your first filmmaking project.
Let's get it started!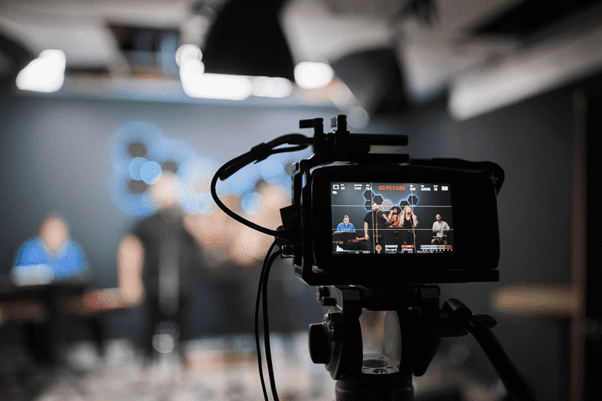 Taken from: https://unsplash.com
Movie Shooting Basics: Get Started in 9 Steps
In fact, each grand project like movie shooting requires considerable input of time, effort, and resources. However, without having a very elaborate plan, it can turn out to be useless. Here are the fundamental steps to consider when mastering film production knowledge.
Step 1. Write a Film Script
One of the core aspects of a successful movie shooting is writing your story on paper. This might be too obvious or too boring at first, but in fact, there are only a few films that can rely on the improvisation of talented actors. And, when it comes to creating your first film, it's nearly impossible to start with the empty papers when turning on the camera.
For example, your movie concept and plot can be misinterpreted, so the actors won't be able to connect their characters into a single story. Instead, by having your script written you can leave useful directions and control the way your shooting process goes. Additionally, this can significantly optimize the time and money required to get all the materials prepared for the post-production stage.
Step 2. Learn a Behind-the-Scene Footage
Starting a first project in the filmmaking industry can be extremely challenging. And, learning more about the actual set of a movie behind the scenes can become a valuable source of knowledge of how everything is organized. For example, you can start reviewing the footage of your favorite films and their authors, actors cast shooting experience, interviews, lessons, and tutorials – all this can tell you a lot about the actual shooting process organization and specific peculiarities it might have.
Furthermore, you can enter the filmmaking courses or even watch moviemaking lessons on YouTube to get more ideas about the technical experience like cinema cameras or professional editing software!
Step 3. Plan the Project Costs
If you're taking this movie shooting project seriously, another essential aspect to consider is the film budget. Plan how your project will be funded: through the investments of the script houses or your own costs. For the first movie, it might be easier to start with your own budget.
Next, keep the money separately and use it flexibly: you might want to hire a professional crew or rent an awesome location for shooting but also pay attention to the equipment, transport, and props, as it also adds a lot to your film budget. Additionally, try to fit in the budget and do not over in it, and do take into consideration the post-production spendings.
Step 4. Make Everything Planned
The more details you'll plan, the easier and faster your post-production will be. This includes:
Booking the locations
Casting actors
Hiring the filmmaking crew
Preparing the shooting equipment
And that's only a general list of what you'll need for the movie shooting process. Along with this, you should prepare the storyboard and schedule the time each scene will be shot. This way you'll ensure everything is on track.
Step 5. Organize Your Cast Team
If you're only getting started in this competitive field, it's a great idea to make your first attempts with the people who are interested in your project and willing to input. For instance, you can ask your friends or recruit for cast in colleges, or even send a call on social media! With having the dedicated people putting themselves literally in this project, you will certainly succeed.
Step 6. Ask the Professionals for Help
Most people think it's impossible to get the assistance of experts in this industry. In fact, even by asking for professional advice or participation in your project, you can still have some chances of engaging the film experts or actors in your movie shooting. A lot of professionals know how challenging it is to start everything from scratch, so if they like your movie idea, they may work with you for free (however, be ready to accommodate your time to their schedule, as this can really be helpful for your project).
Or else, they can provide you with great ways to improve your project or even give you hands-on training. The only thing to remember is to look for the opportunities: call them, email them, tweet them or look for any meeting chances!
Step 7. Focus on the Sound Quality
This rule can significantly impact the success of your upcoming project: the clear sound should be the main priority of your film, leaving behind the video quality. In fact, it's even more important to have a clear sound as it impacts the overall impression of your audience regarding the film. If you're still doubting this matters, just play your favorite movies on mute with subtitles.
Step 8. Learn More About Editing
Another important aspect to follow is mastering the editing software features to put all your shots together in a single yet catching movie. For instance, you can start practicing with the video editing software by Movavi, which features a simple, easy-to-use interface with lots of different film tools inside.
If you're working with the film editors, you should be also ready to delegate the team and have at least a basic understanding of what each member is responsible for. For sure, all this will come in handy once you decide to change something at the last minute!
Step 9. Review the Finalized Version and Take It Live
After the film version is finalized and approved, it's time to show it to your audience. The first movie shooting projects can be presented to your family and friends on a TV right from your computer (even if you're new to this or have some troubles with display settings, you still can learn it!), posted on social media, or even shown to the large audience at the movie festivals. By the way, presenting your film and getting feedback from your audience can also provide you with an understanding of what people like or dislike and how you can improve your further movies, which is basically as important as the basics of filming are.
Start Your Film Project Right Now!
Now that you know how to create a successful movie project of yours. The movie shooting process requires not solely the concept and inspiration but also the detailed planning of each stage of production, your resources, and, of course, excellent time management. Apart from learning your camera and atmosphere, you're going to shoot, you will also need to master the post-production basics, including the editing software, various film tools like catching visual and sound effects in your film, and more.
Do you already have some ideas for your first movie? Start planning right now and check all these tips yourself!