Many a time you need to edit PDF document properties or merge more than one PDf documents. If you have Adobe PDF reader professional version then it's easier to perform above task but if you don't have then Quick PDF Tools is utility for you.
Quick PDF Tools as the name suggest is utility for working with PDf files. Quick PDF Tools enables you to edit PDF document properties, remove passwords from pdf files and merge one or more pdf files together effortlessly. Best of all, all this options are available via right click context menu.
Features of Quick PDF Tools
1. PDF Preview – right-click on a PDF document and view the first page instantly. New!
2. Edit the Title, Author, Subject and Keywords property fields of single or multiple PDFs at the same time.
3. Edit the initial view for PDFs on your desktop without opening them.
4. Add and remove open passwords on PDF documents.
5. Merge all selected PDFs together effortlessly.
6. Convert images to PDFs.
7. Convert PDF to image – creates a folder, and stores each PDF page as a JPEG. New!
8. Extract text from a PDF and save it to a .txt file. New!
9. Remove all bookmarks in a PDF with one click.
10. Extremely easy-to-use and quick to load.
Screenshot of Quick PDF Tools in Action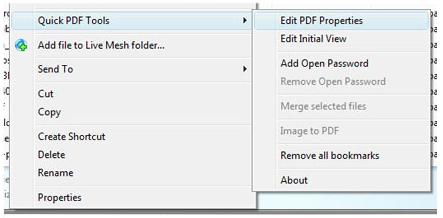 Supported Operating System : Windows Vista, XP,2000