The only product which is recommended in CD/DVD burning category is Nero. Last year in September Nero AG had released Nero 9 which is next generation of the world's most trusted integrated digital media and home entertainment software suite. With Nero 9 you can now easily burn, rip and edit, convert and share, backup and protect your digital media.
Nero 9 has been updated to Nero 9.2.6.0 which has many bug fixes to Nero Waveeditor, Nero Live, Nero Decode, Nero Show time, Nero Control & Nero Cover designer. Check out here full changelog for Nero 9.2.6.0. However No addition of any new features.
Features of Nero 9.2.6.0
1. Fast and easy rip, burn, Autobackup, and copy functions
2. Backup files to CDs, DVDs, and Blu-ray Discs*
3. Create professional-looking DVD movies with integrated 3D menus
4. Copy, burn, share, upload, and create music mixes like a DJ
5. Convert music, photos, and DVDs to play on your iPod® and other mobile devices
6. Quick photo and video upload to My Nero and other online communities.**
7. Watch, record, pause, and customize your live TV experience
8. Play AVCHD and other HD formats
Screenshot of Nero 9.2.6.0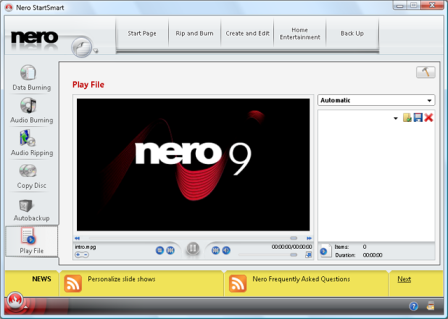 You can grab Nero 9.2.6.0 for Free with 15 days trial Key.