Does your Apex Legends freeze while choosing a character followed by a "connection timed out" error message? Or, is your game crashing on startup or during the gameplay? If yes, you've just clicked the right link because here you're going to get the best 5 methods to troubleshoot Apex Legends Crashing on PC. So, scroll down and learn to fix the Apex crashing error.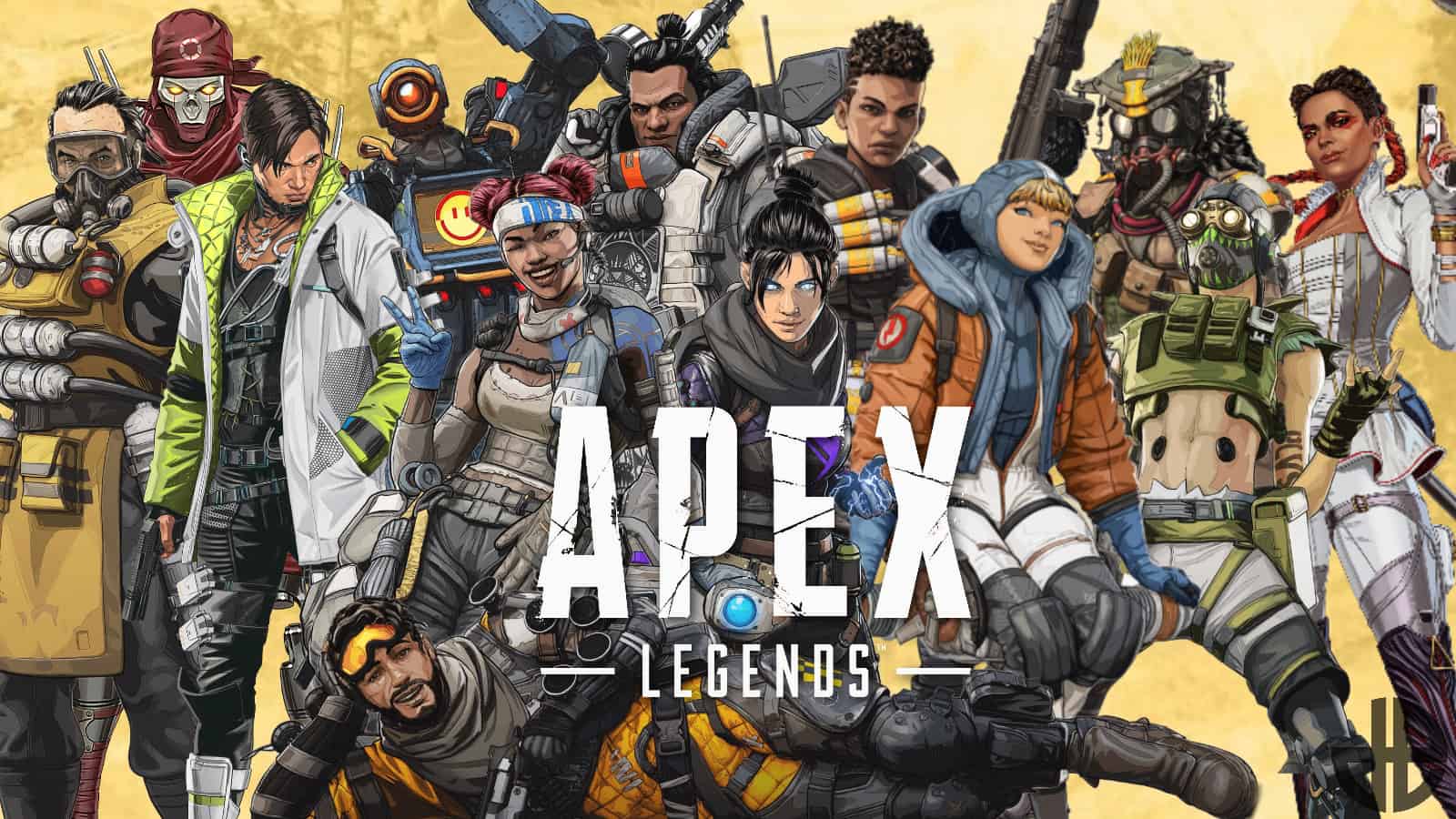 Well, this first-person hero shooter battle royal game got released in February 2019. It's available to play on Microsoft Windows, Xbox One, and Playstation 4. Since its inception, many gamers have complained about Apex crashing on desktop. Even in recent times, different community platforms are flooding with queries for resolutions.
However, it seems like the game developer, Respawn Entertainment, couldn't help the gamers yet by fixing the bugs. But nothing to worry about as there are a handful of workarounds given here to help you fix Apex crashing in no time. Have a look below.
5 Ways to Fix Apex Legends Crashing on PC
There are several potential reasons to trigger 'Apex legends keep crashing,' i.e., hardware incompatibility, outdated or corrupted GPU driver, Origin in-game settings, etc.
The worst part is, Respawn doesn't show you any specific error code to identify the source. Hence it has become difficult to troubleshoot 'Apex crashing no error' by performing any single method. That's why we've scoured multiple forums, tweaked, and tested out these 5 methods that gamers are reckoning with. So no matter what is the source of the issue in your case, just keep performing the methods down the list until you get your Apex Legends fixed.
Note: Before you start with the below methods, uninstall and reinstall Apex Legends. Along with that, end all the unnecessary programs running on your PC. These simple tricks have helped many gamers. If you face the problem even after that, follow the solutions.
Method 1: Disable Fullscreen Optimization to Stop Apex Legends Crashing
Windows provide all the necessary features to let the users have the best gaming experience. The "Fullscreen Optimization" is a part of it. But all games can't provide the resources that Windows asks for rendering advanced gaming performance. This problem finally leads to an FPS issue, which can be a potential reason for Apex legends keeps crashing. So disabling the "Fullscreen Optimization" is your best trait in this case. Follow the steps below to do so.
Step 1: First, press the Windows logo key and type in Apex Legends in the search bar
Step 2: Now right-click on the best match- Apex Legends and choose Open file location
Step 3: Next, your file explorer will open the folder where you've saved the installation files of Apex Legends previously
Step 4: After that, you have to right-click on "r5apex.exe" and select Properties from the drop-down menu
Step 5: In the Properties window, navigate to the Compatibility tab
Step 6: Now scroll down and locate the option "Disable fullscreen optimizations," check the box next to it
Step 7: Finally, click Apply, then OK to save the changes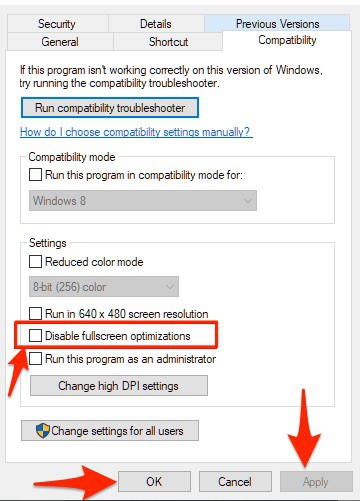 Try to launch your Apex Legends again, if it crashes, follow the next methods below.
Method 2: Disable Origin In-Game Setting To fix Apex Crashing Issue
This little tweak has fixed 'Apex crashing no error' for many gamers. You can also try this method to see if it can make any change in your case. You have to disable Origin In-Game to ensure it runs as per your given Command line arguments. Here is how to do that.
Step 1: Firstly, search for your Origin client from the Windows search tab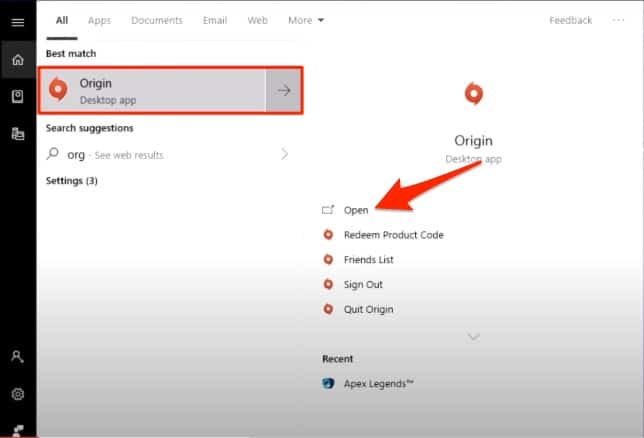 Step 2: Next, open Origin and move to My Game Library from the left pane
Step 3: Here, you'll find all your Origin Game folders on the right side
Step 4: Find Apex and right-click on it
Step 5: Now choose Game Properties from the drop-down menu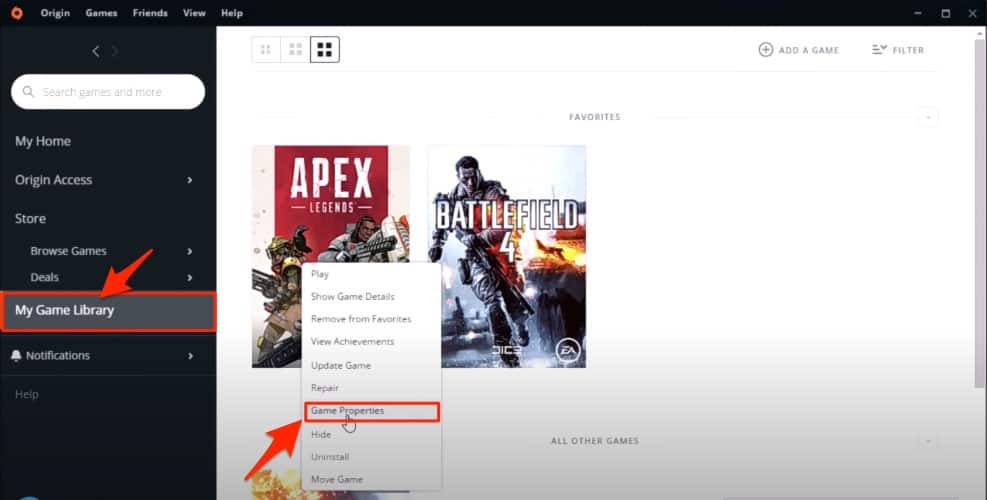 Step 6: In the Apex Legends Properties window, navigate to the GENERAL tab
Step 7: Here, you'll get the option "Enable Origin in Game for Apex Legends," uncheck the box next to it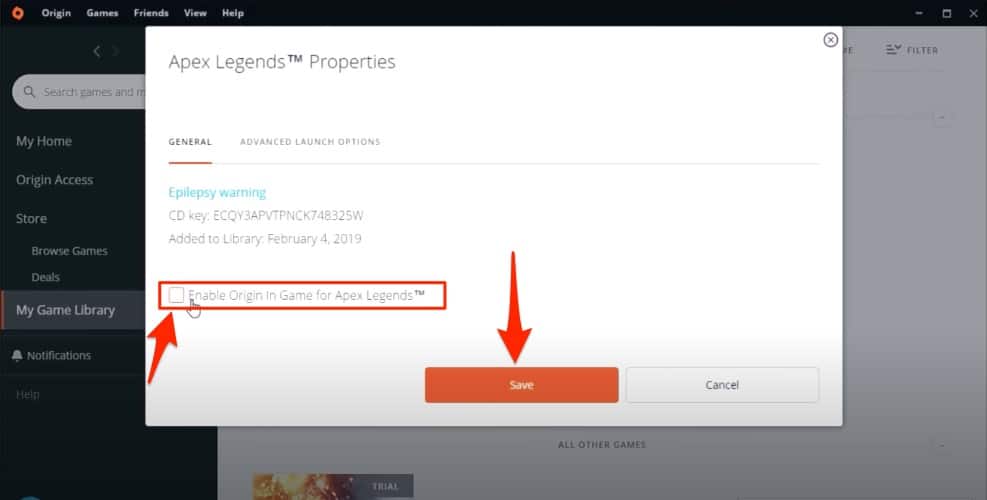 Step 8: Finally, hit the Save button from the right corner and re-launch the game
If Apex is still crashing, perform the next method to fix the problem.
Method 3: Tweak In-Game Settings
Apex Legends has a plethora of settings to personalize the game as per your preference and system capabilities. If the in-game settings are not set properly, it can lead to the game crashing again and again. Here are a few steps that you should follow to ensure it takes minimum resources to run the game in order to fix the Apex crashing error.
Step 1: Lunch Apex Legends at first
Step 2: Then move on to the gear icon provided at the right side of your game interface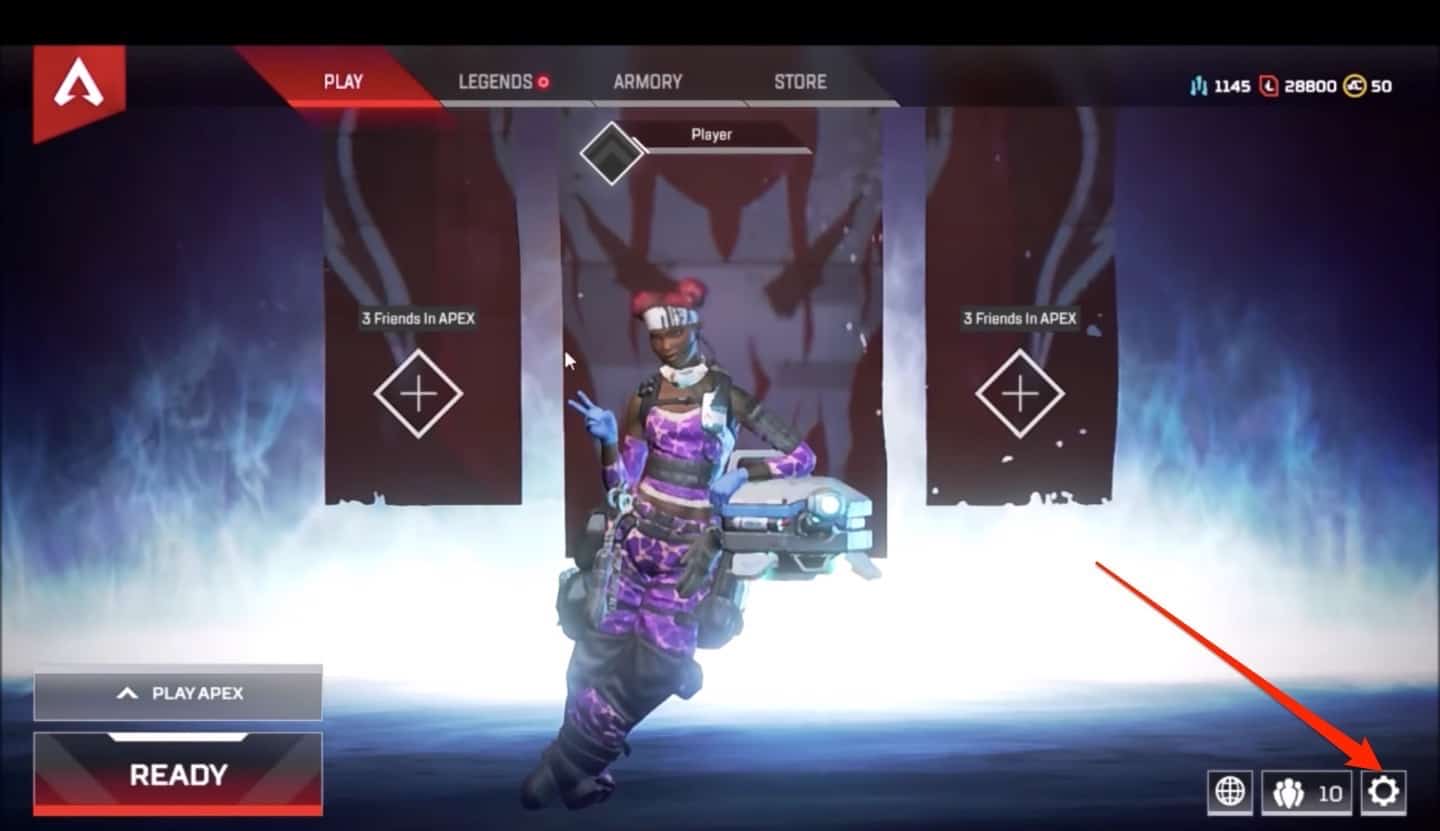 Step 3: Now click it and choose SETTINGS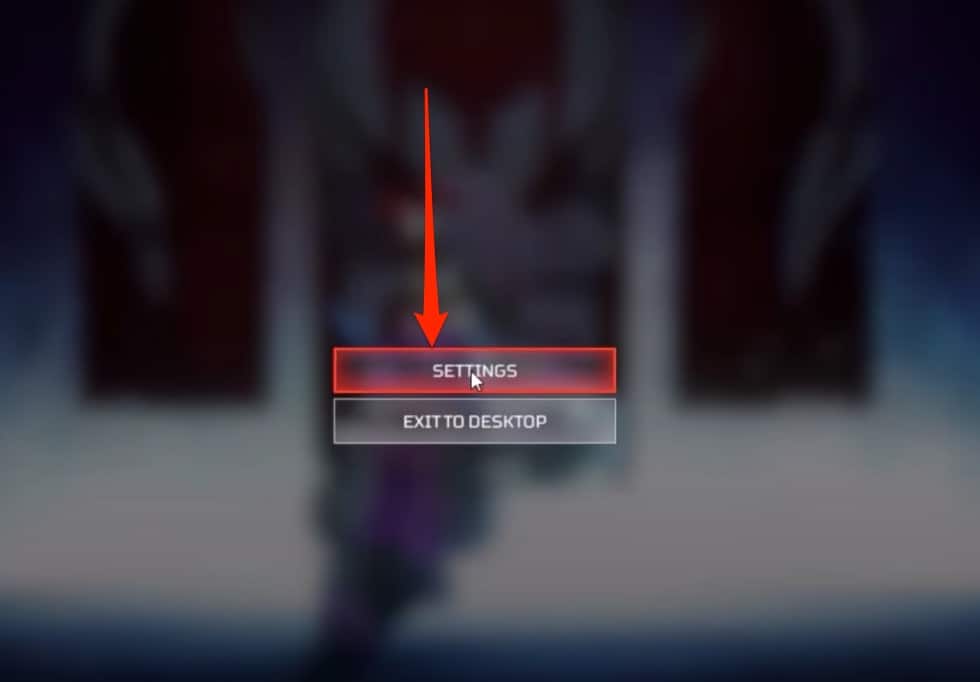 Step 4: In the Settings window, move on to the Video tab
Step 5: Under this tab, find Display Mode and keep switching the options at the right side of the same until you find "Borderless Window"
Step 6: Now scroll down and locate V-Sync, switch the options until Triple Buffered appears
Step 7: Next, look right below V-Sync and set the Adaptive Resolution FPS Target to 50
Step 8: After that, move to Adaptive Supersampling and hit the Enabled button
Step 9: Finally, click on the Apply button to save changes and hit Back to exit the game settings window.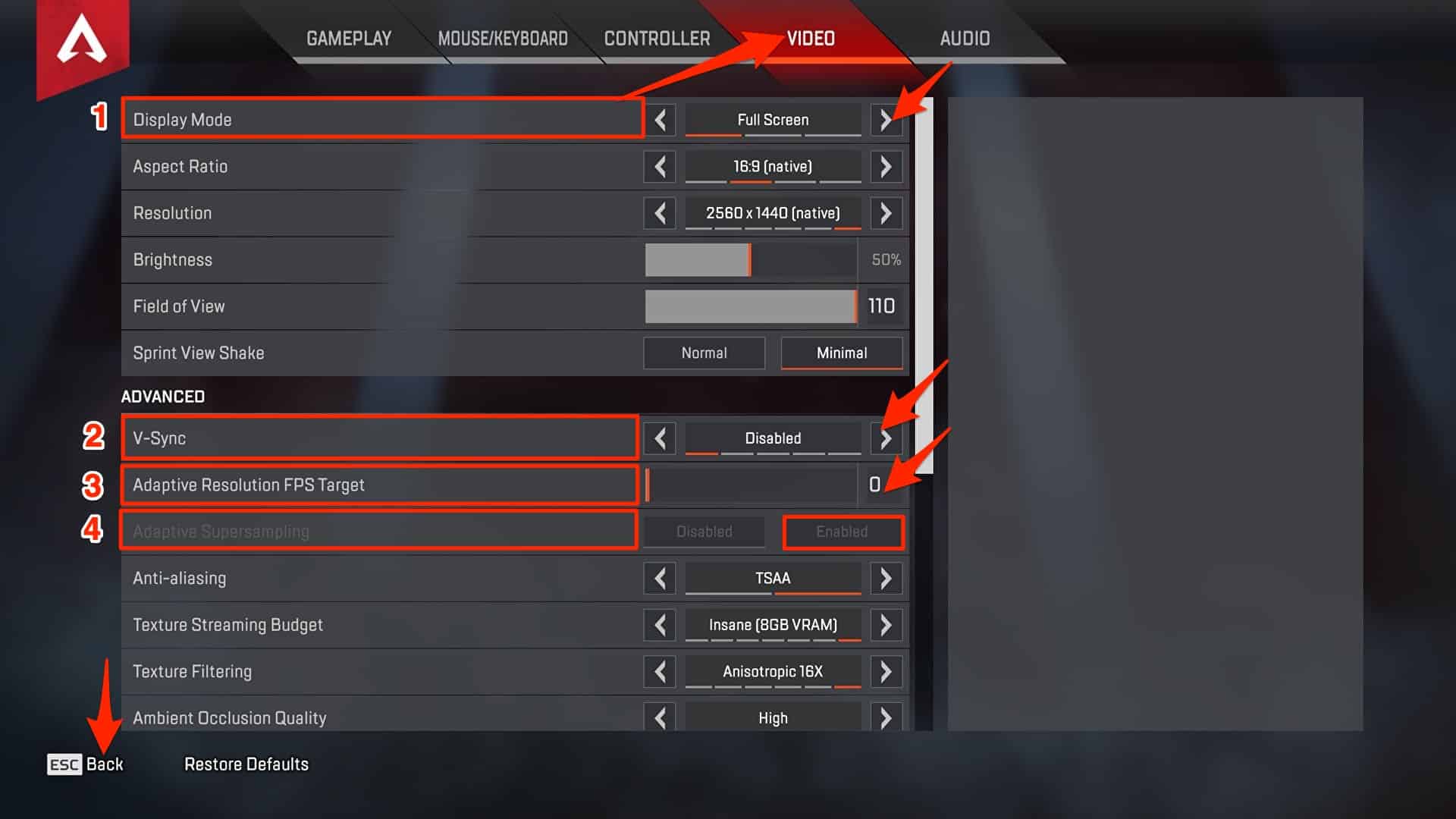 Once done, exit from the game and relaunch it to check if the game is still crashing or not. If you're still facing 'Apex crashing no error,' here is our next solution.
Method 4: Update Your Graphics Card Driver
This is one of the most common reasons why gamers face Apex crashing issues. When your GPU driver is outdated or corrupted, you ought to face this problem. So, updating your Graphics card drivers is the best thing you can do in this case. Here are the steps to do that.
Step 1: First, press the Windows logo key + R button at the same time to open the Run window
Step 2: Next, type "devmgmt.msc" in the empty bar and hit OK to open Device Manager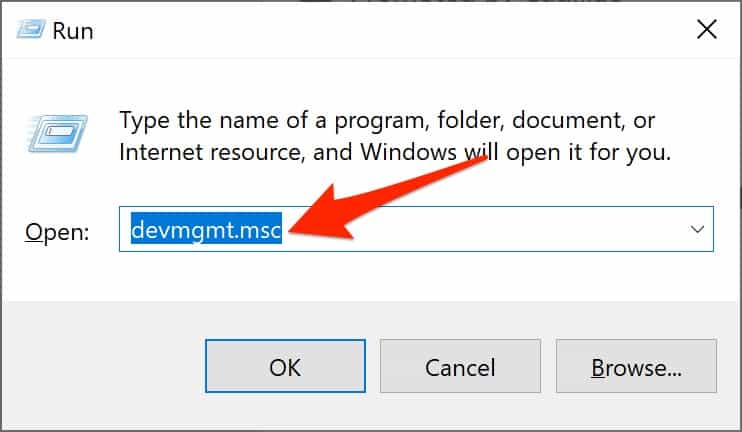 Step 3: In Device Manager, navigate to the Display adapters section and double-click to expand it
Note: You'll get your GPU drivers listed here
Step 4: Next, right-click and choose Update driver software from the menu for the one you want to update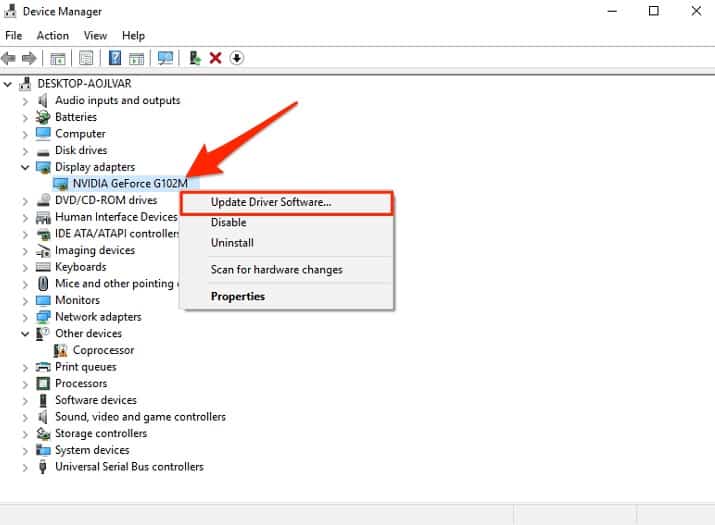 Step 5: In the Update Drivers window, select "Search automatically for updated driver software"
Step 6: Doing so will let your system search and download the latest version of your selected GPU driver
Step 7: Once your driver is updated, restart your PC and launch Apex Legends
There shouldn't be an issue until the reason is not your Antivirus software. Hence, if you are still dealing with the Apex Legends keeps crashing issue, perform the final method given below.
Method 5: Disable Antivirus Software
Do you have antivirus software installed on your PC? If yes, maybe it's blocking your Apex Legends. To make sure your antivirus isn't the cause, follow a few steps-
Step 1: Disable your antivirus temporarily
Step 2: Next, launch Apex legends
Step 3: If the game runs without any crash, add Apex Legends to the exclusion list of your antivirus
You will definitely be able to troubleshoot Apex Legends crashing on PC and run it smoothly. In case of further queries, drop a comment in the below box. If you're facing issues with another royal battle game, let us know through the same box. Stay connected.