Google Chrome and other chromium-based browsers are well known for their performance and customizability. And Google Chrome is currently the most popular browser in the world, with more than 69.87% of the market share. But Google Chrome has some glaring issues, which may break your smooth and immersive browsing experience. Today we are going to discuss about one of those problems.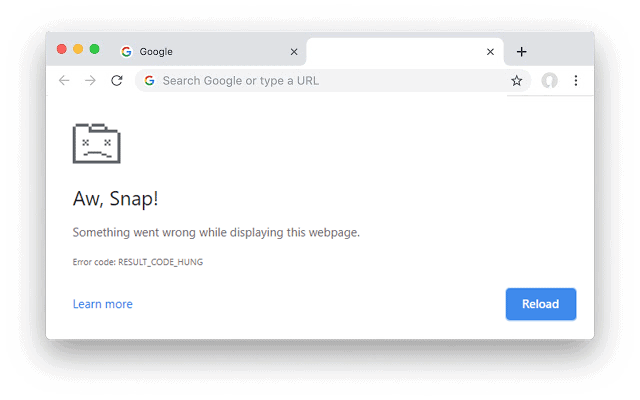 Google Chrome RESULT_CODE_HUNG error is pretty rare to encounter. However, some other chromium-based browsers (e.g., Microsoft Edge Chromium, Brave, Opera, Vivaldi) users have also reported the same. If you are facing the problem and want to know how to get rid of it, continue reading this post on how to fix the RESULT_CODE_HUNG error.
What Causes Google Chrome RESULT_CODE_HUNG Error
There are many different variants of the infamous "Aw, Snap!" error. And all of them appear due to various reasons. RESULT_CODE_HUNG error is one of them. It only happens on Google Chrome and Chromium-based browsers.
Most people face this issue while trying to open a Google Photos folder or a shared album. And in case too many people have access to the said folder/album, the problem is bound to eventuate. Google Hangouts is another place where the issue crops up. Mostly it happens from Google's end, which, once reported, gets fixed within a couple of days. But poor internet connection, not enough system resources, and other factors can also be the reason. If you are on a beta or nightly build of your browser, that could be a reason as well. With all that being said, let us look at the troubleshooting methods you can perform in order to fix the problem yourself.
Check out how to fix Chrome 403 Forbidden Error and Profile error occurred.
Methods To Fix Google Chrome RESULT_CODE_HUNG Error
1. Reload The Page
It's a pretty simple step to perform. However, it works more often than you would think. Simply press F5 or CTRL+R on your keyboard or click the "Reload this page" button in order to reload the page.
2. Open The Page In Incognito Mode
Sometimes in case, a page doesn't load in normal mode, trying to open it in an incognito window may help. You can open a new incognito window simply by pressing CTRL+SHIFT+N in Google Chrome. You can do it the same way on any other Chromium-based browser. Once the incognito window is open, you can try opening the page from there. If it opens there, you should clear your cache data in order to get it fixed in normal mode as well.
Facing DNS_PROBE_FINISHED_NXDOMAIN error or ERR_CACHE_MISS error?
3. Clear Cache Data
In case opening the page on incognito mode worked, you should follow the below steps to clear your cache data. Do note that clearing your cache data will sign you out off of all the websites you have logged into. Follow the steps below in order to do it:
First, in Google Chrome or any Chromium-based browser, press the CTRL+SHIFT+DELETE key.
Ensure that all three boxes are checked, and the "Time range" is selected at "All time" from the dropdown menu.
Click on Clear data.
4. Internet Related Issues
Occasionally Google Chrome RESULT_CODE_HUNG error might crop up due to internet problems. So you should make sure at first that you are properly connected to the internet. Try opening other pages or perform other tasks that require an active internet connection in order to check. If your internet is working completely fine, but you are still facing the same issue on certain pages, move onto our next methods.
Here is guide to fix ERR_CONNECTION_REFUSED on Google Chrome.
5. Change Your DNS Service Provider On Google Chrome
ISP-provided DNS addresses are notorious for causing these kinds of problems. So you should almost always change it to Google's or Cloudflare's DNS. Follow these steps in order to change it on Google Chrome:
First of all, in Google Chrome, click on the three-dot menu in the top right corner.
Then click on Settings.
After that, go to the "Privacy and security" section.
Click on Security.
Scroll down to the Advanced section and make sure "Use secure DNS" is toggled on.
Below that, select With – Custom and choose either Google (Public DNS) or Cloudflare (1.1.1.1).
Google Chrome should now start using Google or Cloudflare's DNS rather than your ISP provided one. Now you can check and see in case you can open the page.
Check how to fix DNS_PROBE_FINISHED_NO_INTERNET and Downloading Proxy Script Chrome error.
6. Use Cloudflare Warp Beta For PC
Not all Chromium-based allow changing the DNS provider in their settings (e.g., Microsoft Edge Chromium). So in order to ensure that those browsers and pretty much every app on your PC uses a secure DNS provider, you can install the Cloudflare Warp beta app for PC from here.
7. Keep Developer Tools Open While Loading The Page
Pages showing the RESULT_CODE_HUNG error may load properly if you keep dev tools open while loading. From the homepage of Google Chrome or any Chromium-based browser, press either CTRL+SHIFT+I or F12 on your keyboard. That should open up the developer tools on the side. Then try opening the page. In case it still does not work, move on to some of the more extreme methods listed below.
8. Remove Your Extensions
There might be a corrupted extension in your browser that is not letting you open the page. You should first try disabling them by toggling them off. If that does not work, use the following steps in order to remove all of your extensions:
Click on the three-dot menu again.
This time click on More Tools.
Click on Extensions.
Click Remove on all of your extensions. All of them should get uninstalled right away after that.
Restart the browser once and try opening the page. In case it works, install all of your extensions back from the web store one by one until it stops working in order to determine which extension was problematic.
9. Restore Settings To Their Original Defaults
If none of the previous methods worked, you can try resetting your browser. Here is how:
Go back to Google Chrome Settings the same way as explained before.
Click on Advanced.
Go to the "Reset and clean up" section.
Click on Restore settings to their original defaults.
Finally, click on Reset settings.
10. Reinstall Your Browser
In case even resetting Google Chrome did not work unfortunately the only other troubleshooting method you can perform is reinstalling your browser. Here's how to uninstall and reinstall your browser:
Click on the Windows Start button.
Search for "Control Panel" and open it.
In the Control Panel, click on Programs and Features.
Find your browser and select it.
Right-click and click on Uninstall.
After your browser gets uninstalled, download your browser again from here.
Install it.
Conclusion
The Google Chrome RESULT_CODE_HUNG error may not be a common issue, but it is pretty hard to fix. We hope that our listed methods have helped you somewhat in order to resolve this problem. Most times, the issue is on Google's end, and nothing you can do will fix it unless Google fixes it. So if you still can not access the page after following the above methods, you can report the problem and wait. Google usually fixes the problem within a couple of days of multiple reports. So you need to be patient for a fix to arrive. After that you should be able to access your precious albums and folders just fine in Google Photos.