have you just stepped out of your office and suddenly remembered that you forgot to send an urgent fax to your client or boss? Well, the good news is you can fax the documents without using the fax machine as long as you have an iPhone. If you are wondering how to use the iPhone to send a fax, read our article to find out.
With the evolution of the internet, communication means have become more accessible and secure. The same applies to the fax as well. There exist multiple fax services providers who offer to send or receive your documents through fax on IOS and non iOS devices. The iOS products specifically, let's have a look at how you can use them for faxing.
How to FAX a document using an iPhone?
You will be surprised to know that faxing the documents through the iPhone is much easier than faxing the same document through a fax machine for the PC. Now you must be thinking that there isn't any built-in application or service on the iPhone or other iOS devices. You are right; there is no inherent option that allows you to send or receive faxes through to your iPhone.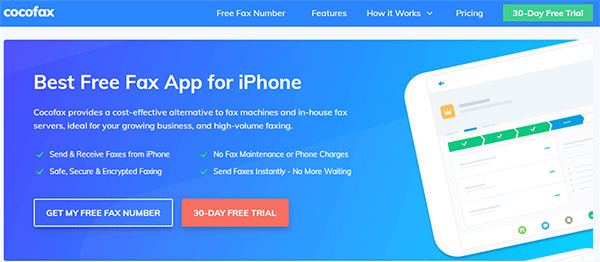 Therefore you require a third-party service that can be in the form of an online service or an application you are required to install from your Apple store. 
One such online fax service provider is the Cocofax. If you have a coincidence to read the review of CocoFax, you will be surprised to know how amazing this faxing service is. Before we jump on the procedure of sending or receiving faxes through an iPhone using CocoFax, let's have a look at the brief introduction to CocoFax.
What is Cocofax?
CocoFax is an online fax service provider. It allows you to send, receive, and permanently save fax online. It is used worldwide by many professionals belonging to various fields of life. The main reason behind its extensive use is that CocoFax is equipped with the latest technology and offers the most convenient way of faxing.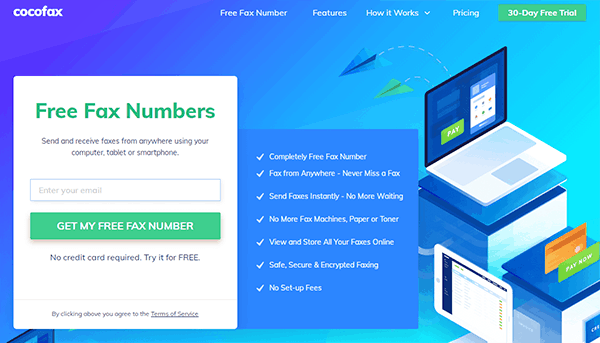 It is easy to operate that even a beginner can use it by following some primary instructions to send or receive faxes. It does not work in the same way as other online services do and offer some extra features that make it unique from others.
You can use this service to send the fax on the fax machine or any other device. Moreover, you get a 30-day free trial period where you are given a fax number free of cost. All you need is to sign up for the service, fill necessary information, get the fax number, and there you go; you are ready to use the fax service.
How does it work?
CocoFax offers a very convenient and user-friendly service that does not involve rocket science and is easy to operate. Due to these features, it is recognized by many authority media outlets such as Forbes & New York Times. Unlike traditional faxing services, it involves the minimal steps when it comes to send or receive the documents using a fax number. 
It works by translating the digital faxes into analogous ones before they are transmitted to the user. Once they reach to the user end, these analogous signals are converted into digital ones, and the fax appears on the screen or the fax machine.
It means that you can send the fax using a digital source sent from any traditional analogous as well as a digital faxing source.
What makes CocoFax the best?
This powerful online faxing service of the following key features;
It is used in 90 + international countries

A best possible way to send or receive the faxes no matter what kind of document you have

Combine multiple documents in a single fax

Archive your faxed documents permanently or as long as you want

Allows you to preview the document before sending

Save the fax in the form of draft

Secure and the fastest way of faxing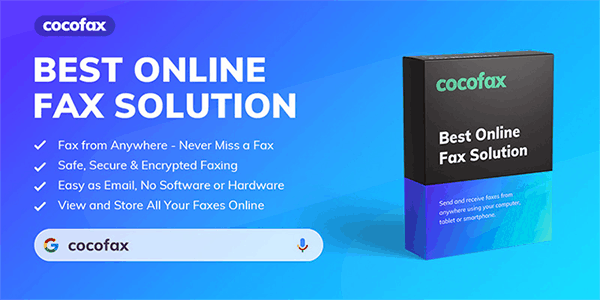 How to use an iPhone to send a fax?
For sending or receiving the fax, you need a fax number. This can be an easier way by visiting the official CocoFax website and signing up. You are given a fax number once you have filled all the details and sign up. This number can be used to send as well as received the fax for a given amount of time. Once this time limit is expired, you need to purchase a subscription plan to use this number. 
The following are the steps to send the fax through the iPhone.
To send the fax, click on the new fax icon and a new window will appear on your screen.

Fill the fax number of the receiver in the "To" section. You can add single or multiple numbers in this action based on the number of receivers. 

In the subject section, you need to add a keyword or a phrase that will appear on the top of your fax on the receiving end. 

Now the most critical step is to attach the files from your iPhone. This is done by clicking on the "add attachment." CocoFax allows you to attach Docx, PDF, PNG, JPG, Xls, and xlsx file formats. Moreover, you can attach multiple documents in a single fax. 

When you have attached the documents and filled the necessary information, you can send it right away or save it as a draught for later use.

Once your fax is received on the receiving end, you will be notified through a notification. In case there happens to be any problem in sending your fax, you will be notified through notification as well.
Conclusion 
If you happen to read the review of CocoFax, you'll get to know more about its benefits & usage. In a world full of technology, you'll come across thousands of online fax services, but choosing the right reliable one like CocoFax is the best decision.