Torrents can be downloaded in a few simple steps, but downloading torrent anonymously means adding a few extra steps in the process. However, the extra steps are not complicated and worth the effort.
The most important step to hide your identity is torrenting with VPN which does not keep any logs. The best is NordVPN at the time. You can find whole list VPN services supporting torrenting in this article.
Any interaction on the Internet, including torrent and downloading P2P, means sharing an IP address, a unique digital fingerprint of your device online. If you do not take steps to hide your IP address, your download steps via torrent can be easily tracked by you.
If meddlers want to determine your IP address and track you, they just need to share the same torrent as you and then track the swarm of torrent downloaders. This means that, in order to anonymously download torrents, you need to hide your IP address so that your Internet provider and third-party organizations cannot detect it, track it or control your bandwidth.
3 Key Aspects of Downloading Torrents Anonymously
Hide your IP address.
Protect your stream behind strong encryption (look for AES-256 or higher-level encryption).
Do not put any personal information on torrent based websites.
Role of a VPN in anonymous downloading
A reliable VPN acts like a shield and protects your server from hackers. This prevents your ISP from adjusting or limiting bandwidth. It prevents third parties from monitoring your connection.
While nothing can ever guarantee 100% anonymity, this combination of functions makes it almost impossible for anyone to determine your true IP address or track your actions and you.
How to Download Torrent Anonymously
Using torrent-VPN without registration is mandatory. It is important for an anonymous stream.
Using an IP protection tool such as PeerBlock is an "optional" step. Some people believe that the benefits outweigh the disadvantages, especially since they are completely free, but this is not necessary. We will explain why below.
If you choose not to use the torrent VPN and instead rely only on the IP protection tool, you will jeopardize your flow and will not be anonymous. Your Internet service provider and tracking devices can control your flow because your connection will not be encrypted and your IP address will not be hidden.
Step 1: Carefully Choose a Decent VPN For Torrent
The best way to hide your IP address for a secure torrent is to use a reliable VPN. Generally speaking, this means a trusted torrent-free VPN such as NordVPN.
A BitTorrent proxy is another way to hide your IP address during a torrent, but the VPN is more extensive. A VPN offers more protection and is more profitable than a proxy. There following reasons for which you must prefer a VPN:
Your ISP will only see encrypted Internet traffic when you are connected to a VPN.
Your data traffic will be hidden inside an encrypted data tunnel directly between you and the VPN servers. Your provider will still be able to see the amount of data that you download, but not the source from which you download (e.g, a torrent) or what kind of data you download (movies, music, software, etc.). VPN protection hides the torrent from your provider and external snooping.
A reliable VPN service will have a high level of encryption (256-bit and higher) and offer a variety of "protocols".
VPN will also hide your true IP address and will not log your actions.
Each time you connect to a VPN, your traffic will be routed through a different IP address assigned from the VPN servers, and not by your ISP. For external observers, It will seem like your stream comes from an IP address and location that are completely different from your true location.
And if someone traces your actions to VPN servers, they will get stuck because your VPN does not store logs. This ensures that your stream remains anonymous, safe and inaccessible for snooping.
How to use a VPN for downloading torrent?
We have already covered a detailed article on VPN for torrenting, which you may checkout to find the best VPN service for downloading torrents.
Using a VPN to anonymously download torrents may seem intimidating, but now these services are quite easy to use.
After paying for the online plan and receiving a welcome letter from the VPN provider, it is as simple as downloading and installing a small application for your computer or device and then entering the username and password provided to you.
Whichever anonymous VPN service you decide to use, connect to it before you open your torrent downloader software and start the torrent. This is a simple 1-click method in most VPN applications.

Some Advanced Settings in VPN For Security
VPNs will protect you out of the box, but take a look at some of the additional steps you can take. Some of these advanced security features are shown below and include features such as Kill Switch, DNS Leakage Protection, IPv6 Leakage Protection and the type or strength of encryption to use.
If you do not wish to experiment with these settings, Just stick to the default VPN settings we recommend for safe torrent downloads.
Enter the advanced settings section of your VPN. In NordVPN, you will find the "Kill Switch" option on the front page. It will be disabled by default. Enable it and save the settings.

In ExpressVPN, head over to the General settings section and make sure the following options are enabled.

In the protocol section of the ExpressVPN settings, select the "Automatic" option.

To enable the Leak protection, head over to the "Advanced" section and enable the following options.

Step 2: Use an IP address protector (Ex. Peerblock)
Note: If you use VPNs for downloading a torrent, it is not necessary to use an IP protection tool. This is just an extra layer of protection. For Windows, the most popular free tool is PeerBlock.
This step of using IP address protection to anonymously download torrents is only optional. These tools are free and do not allow the connection of "unfriendly" IP addresses to your computer or device.
These tools act similarly to firewall software by checking the IP addresses trying to connect to your computer using the IP addresses included in the blacklist, including known spam, trolls, and government agencies.
When you first start PeerBlock, it will guide you through the setup wizard and allow you to select one of several blacklists, including IP addresses related to tracking, spammers/advertisers, spyware, educational institutions, governments and, of course, anti -torrent elements (called P2P in lists). In addition to the P2P list, select any other IP address lists that you want to block.
P2P lists are especially convenient because they block the IP addresses of organizations that track IP addresses during torrent downloads. In addition, you can easily add even more custom blacklists (many of them are free and some are premium) from resources such as I-Blocklist.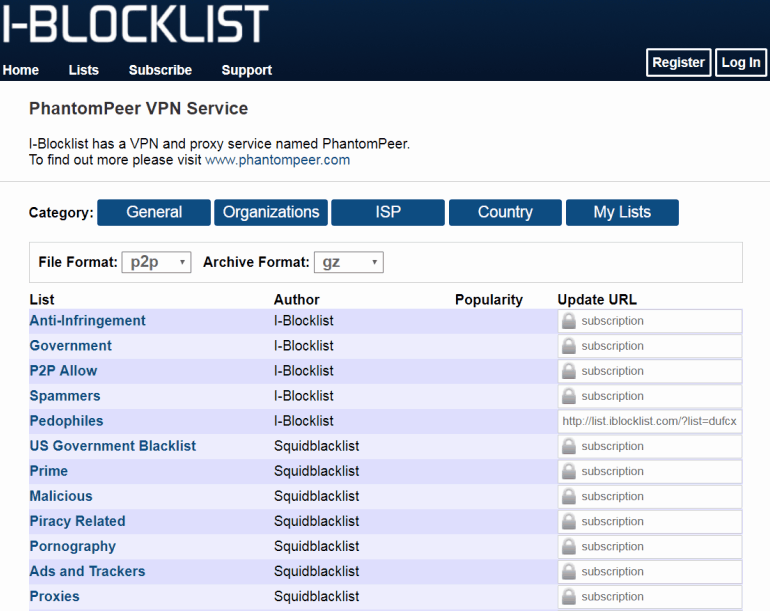 Check out – Best free bittorrent clients for Mac.
Step 3: Check Your IP Address
Once your VPN is connected, you can run any torrent downloader software such as BitTorrent, uTorrent, Deluge, Vuze, Transmission and so on. But before you start downloading torrents, you should first check your IP-address.
This is important, especially when you start because perhaps your true IP address is hidden for browsing the web but there may be a leak for torrents. This can happen when your VPN or proxy does not fully support P2P for file sharing via torrent.
It is always good to double-check for yourself that your IP torrent is really protected and hidden. Here is how to do it:
As soon as your torrent VPN is connected, pay attention to your new disguised IP address. This means that this IP address is assigned to you by the VPN provider after connecting to it. This should be easy to find, and it appears on the main screen of the VPN application.
Now, verify this new IP address with your general IP address. Make sure these two addresses are completely different.
Another way to check your disguised IP address is to visit What is my IP page. Click on the link below to go to the What is my ip page:
https://whatismyipaddress.com/
Whatever torrent IP test you do (or maybe you do all of them), once you confirm that your IP is really hidden, you can be sure that you are downloading the torrent safely and anonymously.
Step 4: Be sure to avoid traffic analysis
We know that you are interested in finding and downloading torrents from the best torrent search sites, but there is often overlooked advice that we should tell you about.
As an added precaution, make sure that you also hide your IP address when visiting any websites related to your torrent activities. This includes sites such as torrent search indexing sites, torrent-related forums, movie subtitle archives, etc.
Many people do not think about this and focus only on hiding their IP address when downloading torrents. But it's possible to accidentally reveal the true IP address during events related to your torrent download. It may even be true when you perform these related activities at another time.
An example might help: you might have downloaded a torrent of a movie with VPN enabled last night, but today you were looking for its subtitle file without using your VPN. This will leak your original IP address which can turn out to be hazardous afterwords.
Step 5. Seedbox – Alternative to Torrent downloaders

If you wish to skip using the P2P downloaders (Like BitTorrent or uTorrent) entirely, you can use a valid alternative called "Seedbox".
This seedbox service is basically a cloud download service that downloads the content on their own server irrespective of your bandwidth and then provides a direct download link from their server. You can then use that download link to download the content directly through your browser or download manager.
There are many websites that provide such services (E.g, Rapidseedbox.com). Many of them are free to use, but with limitations. These limitations include limited download speed as well as pre-defined file size. So, if you are a frequent torrent downloader, you can consider buying a premium membership of a seedbox website and enjoy anonymous torrent downloading.