DNS Benchmarking is a process of choosing the best DNS (Domain Name System) for our internet connection. In order to know if your ISP's DNS server is reliable, fast and secure, you have t perform DNS benchmarking first and then change to relevant DNS server depending on the benchmark result.
What is DNS?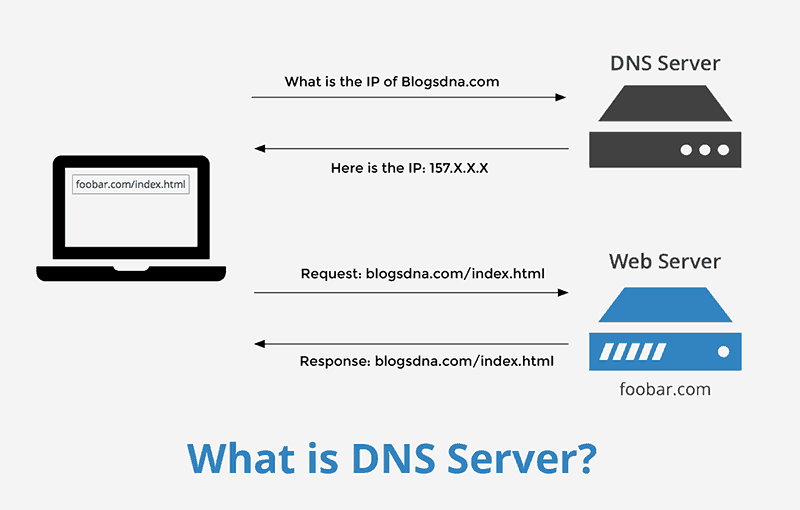 DNS – Domain Name Server is a decentralized naming system for our services or computer which are connected to a private network or internet. It utilizes numerical addresses (IP address) to identify the computer and other resources connected to a network.
DNS randomly assign our internet resources with computer-generated numerical codes i.e. IP addresses. When you type any address in your browser, your DNS server determines the IP address for that approached website.
What is DNS Benchmarking?
Most ISP (Internet Service Provider) have their own DNS server which may not be fast enough or often goes down frequently leading  to DNS_PROBE_FINISHED_NXDOMAIN error in Google Chrome browser. That's where DNS Benchmark comes handy.
DNS Benchmarking is a process of comparing the available DNS servers which are accessible for our resources. With the help of this, you can check the best and fast server according to the service and location and can connect to it manually. This will result in increased speed, faster web pages opening  as compared to the default slow DNS server.
Best DNS Benchmarking Tools
There are lots of tools available for Benchmarking DNS tools given below.
DRC Benchmarking Tool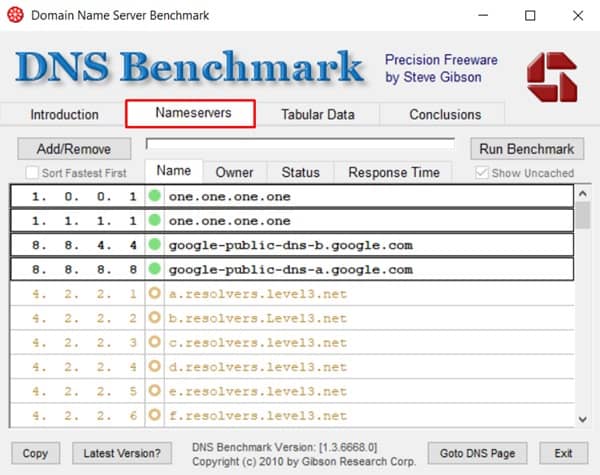 It is a benchmarking platform which shows us a detailed view of the available DNS server. It is free software which allows us to choose the best and fast server which result in increased internet speed. It shows us many details about name servers like response time, reliability, the standard deviation of DNS server.
How to download this benchmarking tool?
This tool is available on its official website as a full setup package. Download and Install this software and you are ready to go. (https://www.grc.com/dns/benchmark.htm)
How to use it?
Launch the DRC Benchmarking Tool, and click on Nameserver tab
Click on Run Benchmark button (it will start scanning for available name servers)
After the scan completes, go to tabular data to see details like minimum, maximum and average speed, its reliability.
When you find your name server, you have to manually set it on your router or system.
DNS Jumper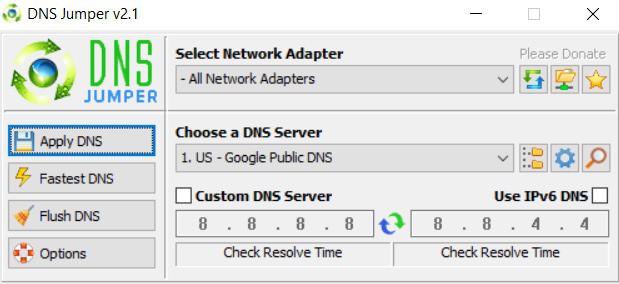 It is a portable and quick DNS server benchmarking tool. It has 27 preconfigured DNS services from which you can select any one. It provides more security by allowing us to select more secure DNS servers. Its latest version has some great features like Turbo resolve which apply the fastest DNS server just after the startup. It is available for Windows XP, Vista, 7, 8, 8.1, 10 –(x86 and x64). It is a multilingual freeware.
How to download DNS jumper?
You can download this software simply by going to its official download page. (https://www.sordum.org/downloads/?dns-jumper). And install it after extracting it from a zipped file.
How to use it?
Open the DNS Jumper software
Click on dropdown given under Choose DNS server option.
Click on any DNS server you want to choose.
Click on Fastest DNS to find high-speed servers and selecting them as you default DNS.
ChrisPC DNS Switch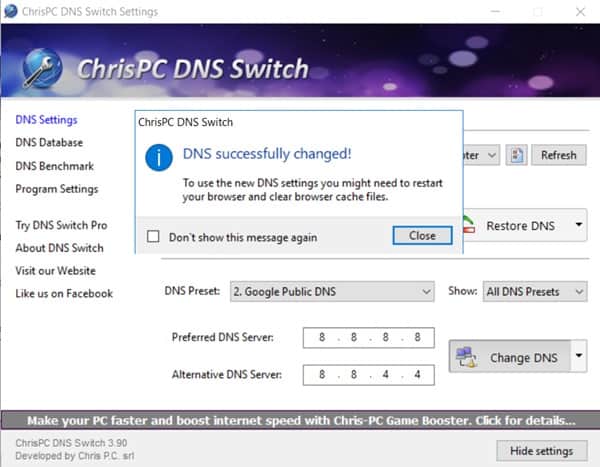 ChrisPC DNS switch is not as good as DNS jumper but it is one of the oldest and popular DNS benchmarking tool. It is quick and lightweight. You can add custom DNS servers. DNS restore and Flush options are also available. ChrisPC DNS switch has technical support and it is free for personal use. To use it commercially, you have to pay for it after 14 days trial.
How to download ChrisPC DNS switch?
Namebench is available officially for download on its website (https://www.chris-pc.com/download.html)
How to use it?
Launch the software.
Click on the dropdown given with DNS preset, select your DNS server and click on Change DNS.
To find out fastest DNS server, click on DNS benchmark option.
It will find the fastest server and you can manually set it on your router or OS.
QuickSet DNS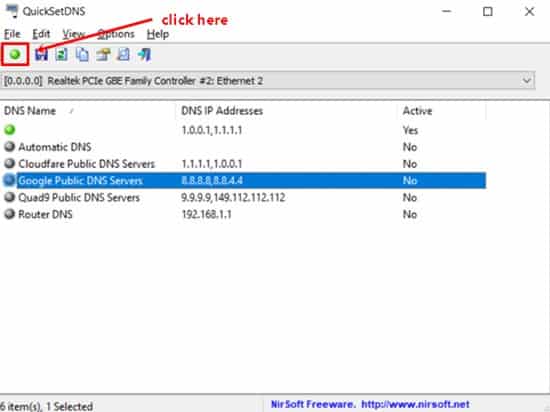 This benchmarking tool has the simplest user interface in all of the above tools. You get a list of available domain name servers in the main window from where you can choose your desired DNS server. You can manually add a domain name server in it. It is easy to use and really effective in its work.
How to download QuickSet DNS?
Go to the official website of Quickset DNS (http://www.nirsoft.net/utils/quick_set_dns.html) and install it after extracting from a zipped file.
How to use it?
Launch the Software.
Click on the desired DNS server and click on Green button given on the top of the window.
Your DNS server is set for your pc.
Namebench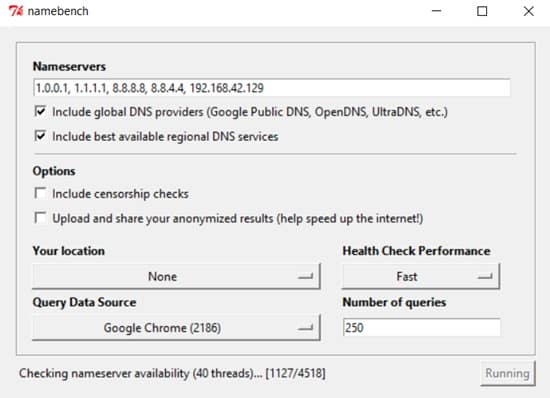 It is also an oldest and lightweight DNS benchmarking tool. It is available for Windows and macOS. It has manual DNS servers and it is capable to search for fastest servers too. It provides best DNS servers according to the locations too. It is little bit slower than the previous tools.
It can detect when your ISP redirect your DNS traffic via their own servers.
How to download Namebench?
Go to google code Archive for Namebench to download it. (https://code.google.com/archive/p/namebench/downloads)
How to use it?
Launch the Software.
Fill the Nameserver address manually if you have the one and click on Start Benchmark.
You can start searching for DNS servers if you do not have any DNS server address.
NetSetMan
It is a multifunctional DNS benchmarking tool which allow us to choose from pre-configured Domain name servers. It is good for capturing, modifying and applying different types of network setup. It has many features like workgroup, default printer, NIC status, DNS suffix etc.
How to download NetSetMan?
Go to official website of NetsetMan (https://www.netsetman.com/en/freeware) to download it.
How to use it?
Launch the NetSetMan software.
If you have a DNS server address then click on (Use the following address) and fill the address.
Click on 'obtain an IP address automatically' to search for fastest server automatically.
Click on Activate to apply the settings.
Final Words
You can select any of the above mentioned tools for your DNS benchmarking need. For better results make sure you perform the DNS benchmark using multiple tools as all of the above mentioned tools are free for use and works perfectly well on Windows 10. The result of DNS bechmark may way vary across different tools and you are request to backup your internet settings before making any changes to DNS server.