VLC is no doubt the one best video player available on the internet and being open source project, it has evolved a lot in recent years. The best apart of VLC is, its availability for every platform like Windows, Mac and Linux. You can also have VLC media player for Android as well as iOS.
VLC also makes it easy to stream as well as play RTP (Real-time Transport Protocol)  files. The fast hardware decoding and subtitles synchronization makes it #1 media player. Another interesting feature of VLC, which is less known to most users is the ability to grab subtitles of the movie right from the player itself.
VlSub -VLC 3.0.5 Vetinari
Vlsub, nifty tool built right into VLC player allows you to download any subtitles using video hash or video titles from the OpenSubtitles.org, one of the biggest repository of subtitles for movies & tv series in multiple languages.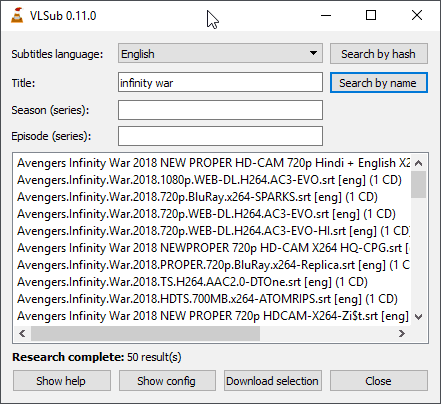 There are many third party subtitle downloading tools available for Windows, but VLsub makes your task for downloading subtitles even better, turning those tools into redundant. Here is a small guide on how to use Vlsub.
How to Grab Subtitles from VLC Media Player
Launch

VLC player

and open the

video file

for which you want to

download

subtitle

.
Click on "View" from the top navigation menu
Open Vlsub
Under Vlsub, you have the option to chose the language and perform a search using either by title(name) or hash (

video file

hash).
There is also an option for season and episode(series).
If you use Vlsub without playing a video you will get a link to

download

the

subtitles

in your browser but the

subtitles

won't be saved and loaded automatically.
Search by hash
It is recommended to try this method first, because it performs a search based on the

video file

print, so you can find

subtitles

synchronized with your video.
Search by name
If you have no luck with the first method, just check the title is correct before clicking. If you search

subtitles

for a series, you can also provide a season and episode number.
Select one

subtitle

in the list and click on "Download" button. This will

download

and save the selected

subtitle

in the same directory as your video and with the same name as your

video file

(different extension).
Show config button lets you configure different settings including default

subtitle

language, remove tags, username password setting for opensubtitles.org.
Please Note: existing subtitles in video folder may get overwritten without any confirmation message.
The only downside of Vlsub is, it uses OpenSubtitles.org website for sourcing subtitles which is known to add its branding within subtitles and serve annoying popup ads. Not many users like that and there is no way to chose your favourite subtitles website within Vlsub
If you are using older version of VLC and do not have Vlsub then you can get the Vlsub addon and have the same functionality like VLC 3.0.5.