The 0x800705b4 error is directly related to Windows 10 Update and can also annoy users who are trying to upgrade from older versions of Windows like Windows 7, 8 or 8.1. This happens when your system is not able to update itself because the downloaded update somehow got corrupted. The error message looks like below,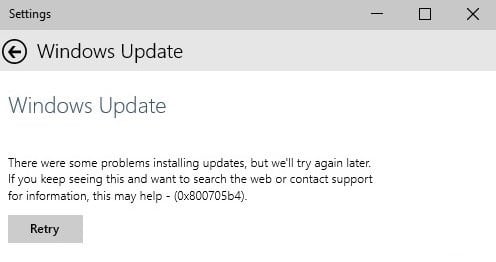 This can be a very annoying issue since you won't be able to move to newer versions of Windows and you will be left without the bug and security fixes that Microsoft releases every once in a while. To fix this we can try things like disabling a third-party firewall and activating the Windows Firewall again. We will also look at other solutions that will help you fix this error for sure.
How to Fix Error 0x800705b4 on Windows 10, 8.1, 8 and 7
Solution #1: Disable third-party firewall
If you have a third-party security suite, for example, an anti-virus or an internet security program, then it is possible that your program is interfering with the way Windows Update works and this mostly happens when the third-party firewall blocks Windows Update. In this case, you need to disable the third-party firewall and switch to Windows Defender and Firewall.
After the firewall and the third-party security suite is disabled, try rebooting your computer and try updating your Windows again. This should fix the issue for those who are facing this error due to a third-party program blocking the way Windows interacts with the internet.
Solution #2: Enable Windows Defender
If for some reason, Windows Defender isn't working properly for you and it is disabled, you can enable it again for Windows Update to work properly. We can do it by restarting Windows Defender from Services and to do that, follow the steps below.
Open the Start Menu and then search for Services. Open the Services program from the search results.
Alternatively, you can use the Windows key + R keyboard combination which will start the Windows Run dialogue. In the Run box, type in services.msc then press Enter.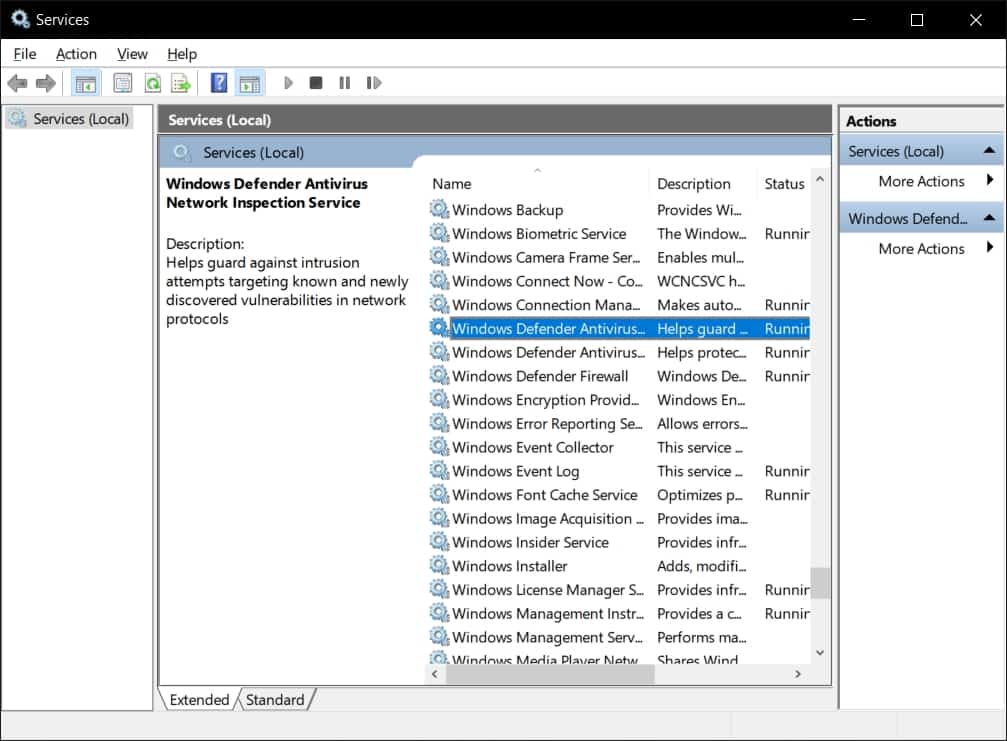 Check for Windows Defender related services and then restart them by right-clicking on the services and clicking Start. This process will re-enable the Windows Defender program on your computer. Now go ahead and disable any third-party security suites you have installed on your computer.
Once done, Open the Windows Update settings from the Settings app on Windows 10 and try updating Windows again. This will also work on older versions of Windows where you're using a third-party security program.
Solution #3: Edit the Group Policy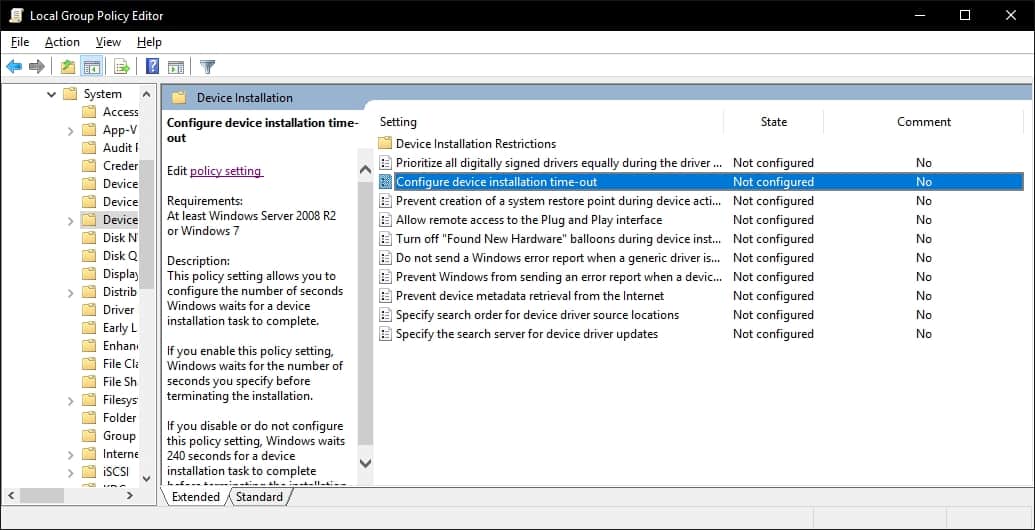 We will use slight changes with the Group Policy to see if that changes the scenario and fixes the issue for you. You just have to follow the steps listed below.
Open the Windows Run box by using the Windows key + R keyboard combination. Once the box has opened, type gpedit.msc and then press ENTER.
You will see that the Group Policy Editor opens up and we will make some tweaks here.
Now you just have to browse to Computer Configuration> Administrative Templates > System > Device Installation.
Look for an option that reads "Configure Device installation time-out". Right-click on it and then click on Edit.
In the new window that opens up, you need to click on Enabled and then edit the Device Installation Timeout to 1800 from a default value of 300. Once done, click on the OK button and restart your computer. Your computer should now update properly and should not produce this error anymore.
Solution #4: Use the Windows 10 Update Assistant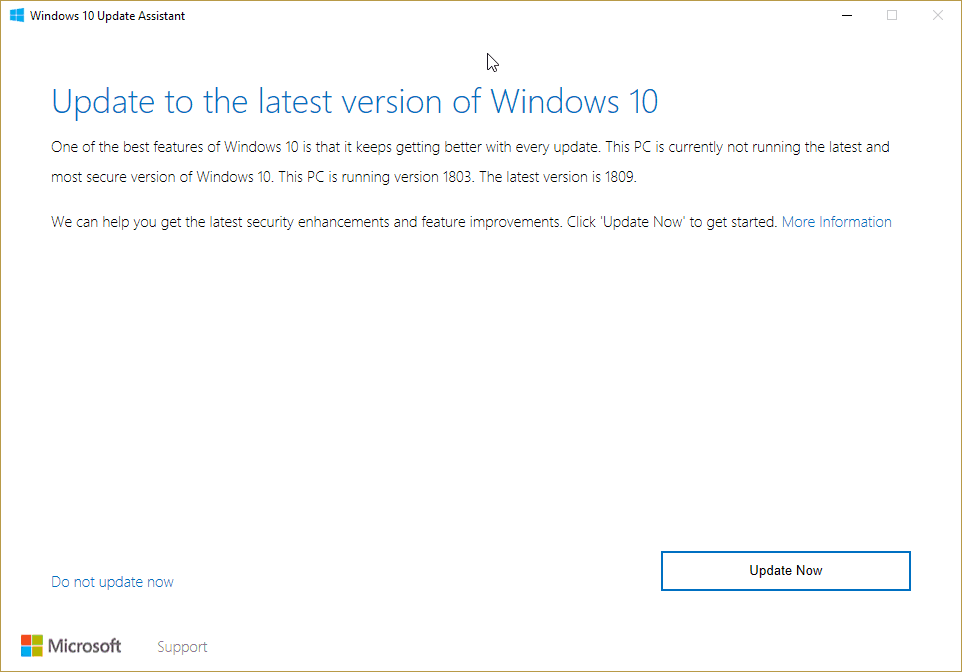 Microsoft has made their Windows 10 update assistant readily available for download for anyone who is facing issues with the upgrades. You can go ahead and download the Update Assistant from here. Once downloaded, you can run the downloaded exe file which will start the Update Assistant.
The tool will scan for the pending updates that you have for Windows 10 and it will guide you through the process of installing the update. If you're on an older version of Windows, the tool will also help you upgrade from an older version of Windows to Windows 10.
Solution #5: Perform a Clean Boot
When you're trying all the solutions above and still not able to solve this issue, then you can perform a Clean Boot of your computer and try to update it after that. To perform a Clean Boot, follow the steps below.
Open the Start Menu and then type System Configuration. Open the result that comes up.
Alternatively, open the Windows Run box by using the Windows Key + R keyboard combination and type msconfig and then press ENTER.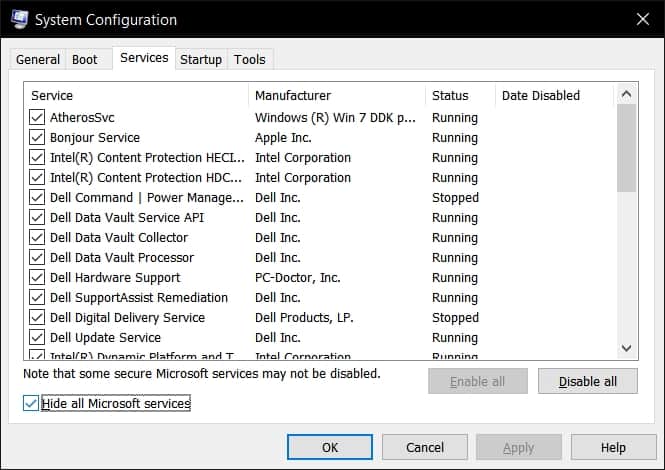 Switch to the Services tab and then check Hide all Microsoft services. The list will be refreshed and you will not see any Windows or Microsoft related services.
Once you have done this, click on the Disable all button which will disable all the listed services.
Now switch to the Startup tab and then open the Task Manager. In Task Manager, Disable everything one by one.
Once done, just go ahead and shut down the computer once and then boot it up again. One you have booted, you will boot into a Clean Boot environment on Windows. You can now go ahead and try performing the steps mentioned above one by one again and see if they work for you.
Wrapping it up!
The 0x800705b4 error can be very annoying yet solving it isn't hard. You just have to follow the solutions mentioned above and try them one by one in the mentioned order and you will have a computer that will run without any errors in no time. The 0x800705b4 error basically is related to Windows Update and Windows Defender and we have done everything in the post above to fix this error and solve the issues.