With the Skype 8 release around the corner and being force update, one would be wondering whats going to happen to their years of Skype chat history. Preserving conversions is a good idea as one can refer back whenever they want it and Skype chat history is one such thing that no one wants to lose it.
Although, every new  Skype version update preserves your chat history, unfortunately, Skype 8 won't let you see your chats older than six months, which is not at all welcomed move. This makes it even more necessary to backup your Skype chat history before moving to Skype 8 and losing them forever.
In this guide, we will share all the possible ways by which you can export and make a backup of your Skype chat history.
How to Backup Skype 7 Classic Chat History
Skype 7 Classic Build in Chat Export Feature
Thankfully Skype itself provides us with the necessary features required to backup and export chat histories, provided you have been keeping chat history turned on. Please keep in mind it won't recover the lost chat history which in our opinion is not at all possible with any available tools.
If you are planning to upgrade to Skype 8 and you must make sure to backup chat logs and to do that simply follow the below steps.
Open Skype and navigate to Tools and click on Options or you can press Ctrl+, keyboard shortcut key to open Skype options.

Now under Options, click on "IM Settings".
On the right section, locate & click "Export Chat History" button.
Now select the location where you want to store chat history and file name and click on SAVE.
You will see the progress bar with message your chat history is being exported. Click on OK when Skype completes exporting.
The exported chat history is only available in CSV format, and you can not import back to other skype version and the exported CVS file is not easy to read or scroll through if you have years of history saved. Another downside of this method is you have to repeat these steps for every Skype account that you have ever used on that PC.
SkypeLogView
SkypeLogView is yet another handy utility for backing up chat logs. Being a portable utility, it doesn't require any installations, you can download and run it on any machine using a portable USB drive. When you start SkypeLogView, it will ask for the Skype Logs folder and file name.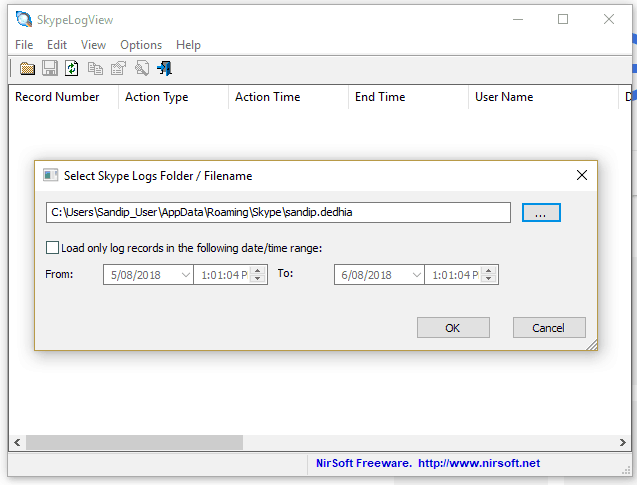 It also detects the default location and automatically pulls the correct profile. The option to locate chat history of only specific time can come handy when you have years of chat log which will take some time to pull for SkypeLogView.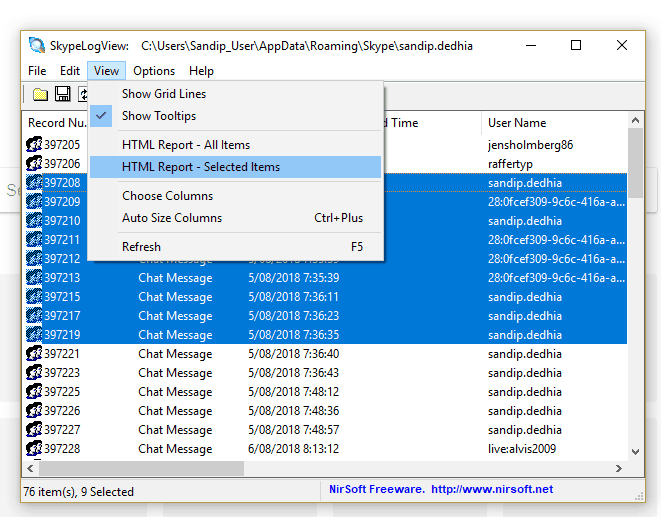 You can export select all or only specific chat logs and export it as html file.
Download SkypeLogView For Windows.
Skype Historian
SkypeHistorian is an extremely powerful tool and only suitable for power users. The options to export chat logs in CSV, JSON or XML format makes this utility #1 in our list of Skype tools. You also get the many features such as filter chat based nicknames, chat titles or date range. The exported chat logs can also be archived to save the space.
Apart from the ability to export in different file format, Skype Historian also allows you to group the messages by members, month and day and selected date rage. While exporting chat logs, the Skype needs to be running, and you will have to allow access to Skype Historian to your Skype account info.
Skyperious
One more powerful Skype tool with which you can explore Skype database file (main.db) where all the information related to your Skype accounts is store including messages and contacts. Unfortunately, only 64-bit Windows OS is supported. Skyperious is designed not be only chat backup tool but also to merge multiple Skype accounts, scan existing as well as previously saved skype main.db files to extract all the required information.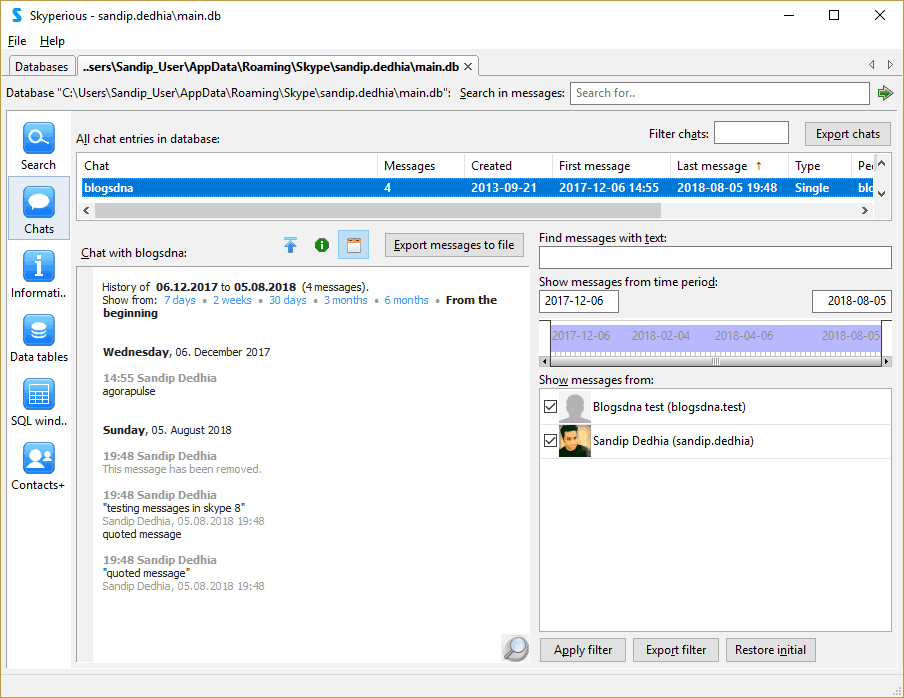 Skyperious lets you to export chat into separate HTML files under one single folder or as a spreadsheet with a sperate sheet for each chat.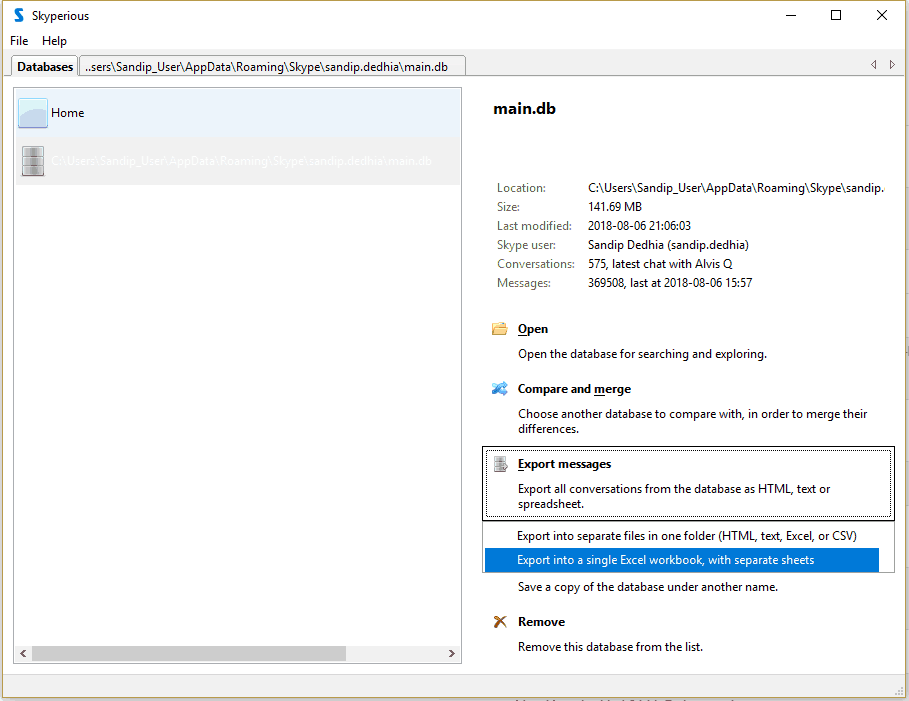 SkypeExport
Extremely small in size but with only command line support, a utility with one single purpose of exporting Skype chat logs into different HTML files.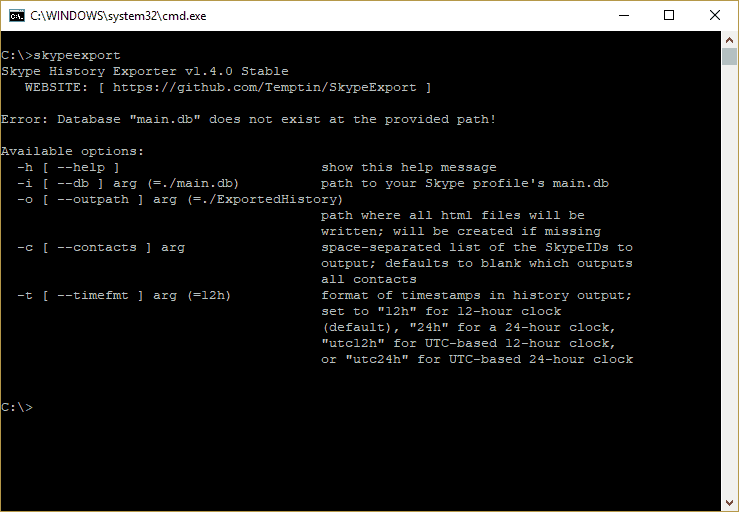 Manually Backup Skype main.db
Skype at its backend uses SQLite database to store contacts, chat history and any other information related to your Skype account.  Which means we can copy the database file and save it to other location and later can use this file to retrieve any other information that we need. Follow the below steps to locate and make a copy of Skype main.db file.
Press win+r to open run command
Now type %appdata% and hit enter
Under AppData Roaming folder locate Skype folder
Now Open Skype folder, you can see a folder name as per your Skyper username.
Open that folder and scroll below to locate main.db
You can right click and copy that folder and paste to your desired location.
Make sure you keep the file secure as access to this file would mean all your skype data will be available to the unwanted entity. You can use tools like Skyperious to open Skype database file to view your chat history or contacts.