Microsoft is gearing up for Skype 8, and official public release is expected for September 2018. Which also means the support for Skype 7 aka Skype Classic version will end and users will be forced to move to Skype 8. Although Microsoft is maintaining its stand that Skype 7 Classic will be discontinued from September, we believe the Skype 7 classic may continue to work even after that, because Skype 8 is only designed to work for Windows 7 and onwards.
The current version of Skype that most users are running is Skype 7 Build 7.40.0.104 or build 7.41.0.101, both the versions are stable version and have classic UI, which most users are used of. Unfortunately, just like every major update comes with plenty of headaches for users, Skype 8 is no exception here. From missing features to unwanted change in UI, Skype Community forum is full of such complaints from Skype 8 insider preview users.
That gives the perfect reason for one to go back to old version of Skype, If for some reason you have updated to Skype 8 preview release or after September 2018 your Skype got auto upgraded to Skype 8 then here are the download links for Skype 7 Classic version.
Tip: How to Downgrade to Skype 7 Classic from Skype 8
Offical Skype 7 Classic Download Link
You can still grab the Skype 7 Classic from Microsoft Skype website. Use the following link.
https://go.skype.com/classic.skype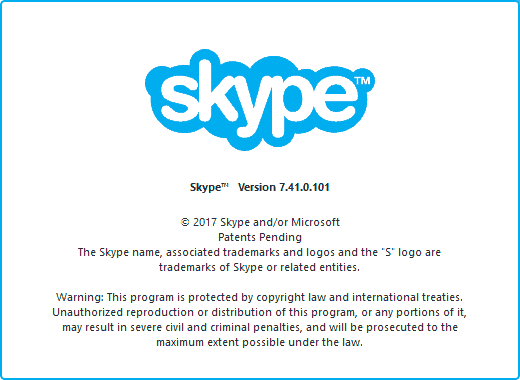 You can use any of this unofficial download links to download Skype 7 classic for Windows and Mac. If Microsoft takes down Skype 7 Classic download link, the below links will continue to work as they are from the software repository websites and each version are maintained independently.
Download Skype 7 Classic Build 7.40 and 7.41
Download Skype 7 Classic For Windows
FileHippo – https://filehippo.com/download_skype/history/
Oldversion – http://www.oldversion.com/windows/skype/
Download Skype 7 Classic For Mac
FileHippo – https://filehippo.com/mac/download_skype_for_mac/history/
Oldversion – http://www.oldversion.com/mac/skype/
Make sure to select and download the version you would like to have, as the link points the Skype version history.
Users of those unsupported OS like Vista and XP, you can still use Skype web interface to login to your Skype account and have calls or connect with your Skype contacts.
If you are not able to signin into your Skype account on Skype 7 Classic, that would mean the Skype 7 is no longer supported and you have to download Skype version 8 or the latest one.