Video and Audio converting applications are not new. There is plenty of free and premium applications available online. We've also discussed many audio and video converters before. One new feature everyone expect is the cloud support. Since everything has become Cloud storage now, the default support for cloud services will be very useful. Many online converters support different Cloud services for converting videos directly. Today I've come with one such web application called "Online Video Converter", which lets  you convert video and audio files from both local and cloud storages.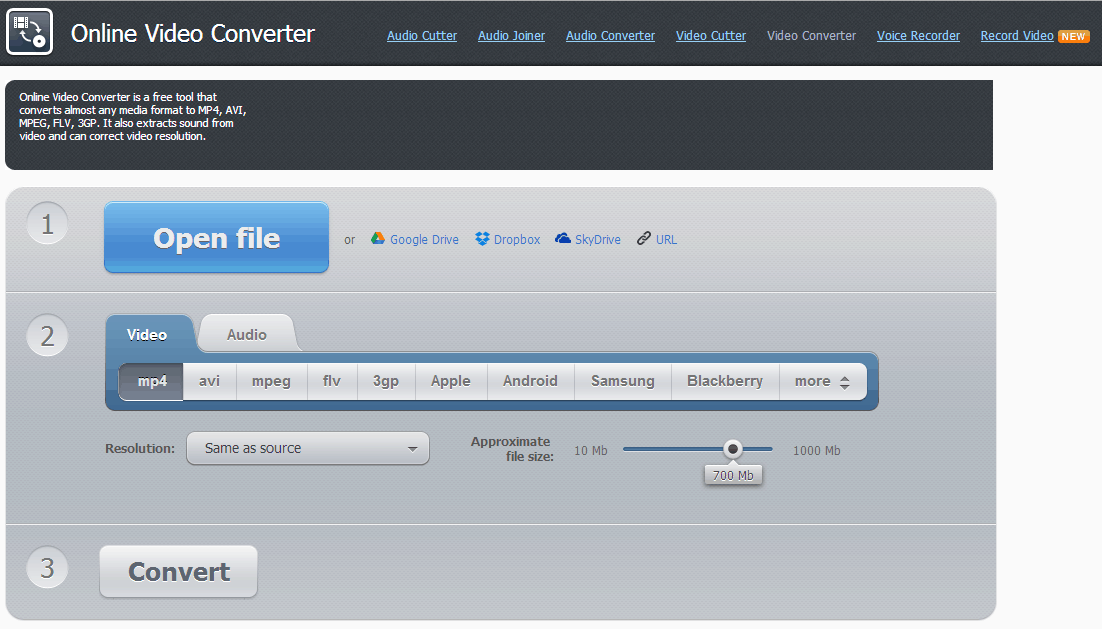 Online Video Converter is a free web app, where you don't need to do any registration for using the service. Just go to the app and start converting the files. Totally, there will be three steps to convert the file. In the first step you have to select the source. Click the "Open File" button to choose the file from your local machine. If you want to convert a video from a cloud service, choose the service name or paste the URL using the last option. So, you can add a URL from any cloud service to convert the audio and video files.
Once you finish uploading the file, in Step 2 you can choose the output requirements of the file. If you have uploaded a video, you can either convert it into another video format or convert it into an audio file using the options over there. Choose the format you want to convert and select the resolution. In this case, I've selected "Apple", so I got different resolutions for iPad 2, iPad 3, iPad 4, iPad Mini and much more. Also, choose the approximate file size in the option over there. Then Click "Convert" to start the process.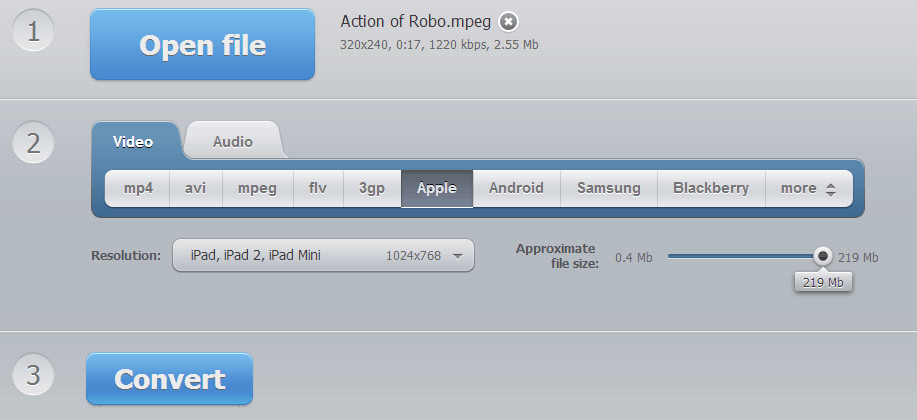 Based on the file size you've uploaded, the processing time will differ. Once it completes the conversion, you can either download it to your PC or directly upload it to your Cloud services right from the application. The app also has browser extensions available to convert files from your browser. The Online Video Converter development team also has other applications like audio cutter, video cutter, voice recorder, etc. The app links will be available on the top and if you like it, you can try those apps too. Hit the link below to give a shot and don't forget to share your experience with us in the comments. Thanks for reading, do share this post with your friends.