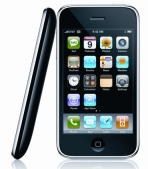 It has been quite some time to iPhone firmware 2.2 and iPod firmware 2.2 releases. Like all other firmware, iPod and iPhone firmware 2.2 was not free from bug even after claim from apple about having bug fixes. Early today apple has released another update to iPohne and Ipod firmware i.e iPhone and iPod touch Firmware 2.2.1.
Well IPhone Dev-team has clearly warned to all iPhone uses that not to update firmware 2.2.1 as they are still investigating whether or not they are able to jailbreak iPhone Firmware 2.2.1 and iPod Firmware 2.2.1.
The baseband has been updated too (Modem Firmware: 02.30.03) so again, do not update your iPhone if you are jailbroken/unlocked iPhone User.
The updated version of iPod and iPhone Firmware 2.2.1 has many bug fixes
iPhone 2.2.1 Software Update
This update contains bug fixes and improvements, including the following:
– Improved general stability of Safari
– Fixed issue where some images saved from Mail do not display correctly in the Camera Roll

Products compatible with this software update:
– iPhone
– iPhone 3G
iPhone Firmware 2.2.1 and iPod Firmware 2.2.1 Features
1. Faster and snappier!
2. Less crashy.
3. All Safari bugs I know of have been fixed.
4. RAM is definitely better. Apps don't eat it up as much as before.
5. Bug fixed where saved images were pixelated and blurry.
6. Bug fixed where when you turned on an app on a flat surface the accelerometer would turn off.
7. Emoji's still work.
If you are egger to check Firmware 2.2.1 and do not hold Jailbroken iPhone or iPod then download Firmware 2.2.1 update from below links.
Download iPhone 2.2.1 and iPod 2.2.1 Firmware Update
Download iPhone 2.2.1 firmware
Download iPhone 3G 2.2.1 firmware
Download iPod Touch 2.2.1 firmware