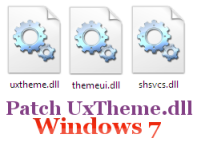 We have written about windows 7 Uxtheme.dll patch which allow us to use custom third party Windows 7 Themes and Styles. For windrows XP and Vista we already have Uxtheme patcher which can makes you free from the task of manually patching of files.
However for windows 7 you need to follow manual method to patch uxtheme.dll but I am sure not every one will be confirmable with that method, for all those users here is all in one freeware NiwradSoft UxTheme Patcher 1.0 which can allow you to patch Uxtheme.dll file on windows 7, Windows XP and Vista.
Screenshot of Nirwradsoft UxTheme Patcher 1.0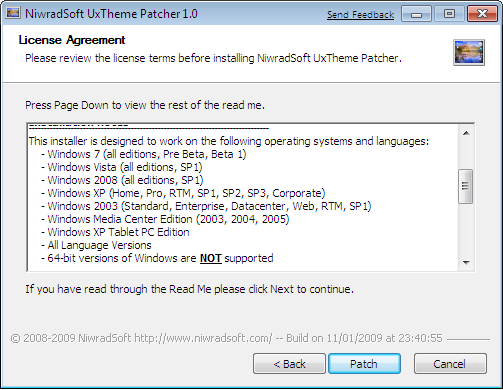 Nirwradsoft UxTheme Patcher is extremely small in size and supports almost all windows operating system but only 32-bit.
Download Nirwradsoft UxTheme Patcher 1.0 for Windows 7, XP & Vista.
Source: Webtrickz