The network that connects your computer to your router and the internet uses different ports for communication. But in order for these network / router ports to be usable, they must first be opened. If a port is not open, then communication through it can be very difficult. People who play computer games with other computer users or who download torrents might have already encountered the nuisance that is a closed network port.
Depending on your router and the application you are using, you can employ various techniques to open the port: UPnP, Virtual Server, NAT, DMZ, etc. But how do you test if a particular port has been successfully opened? This is where is a nifty app called PFPortChecker comes into the picture.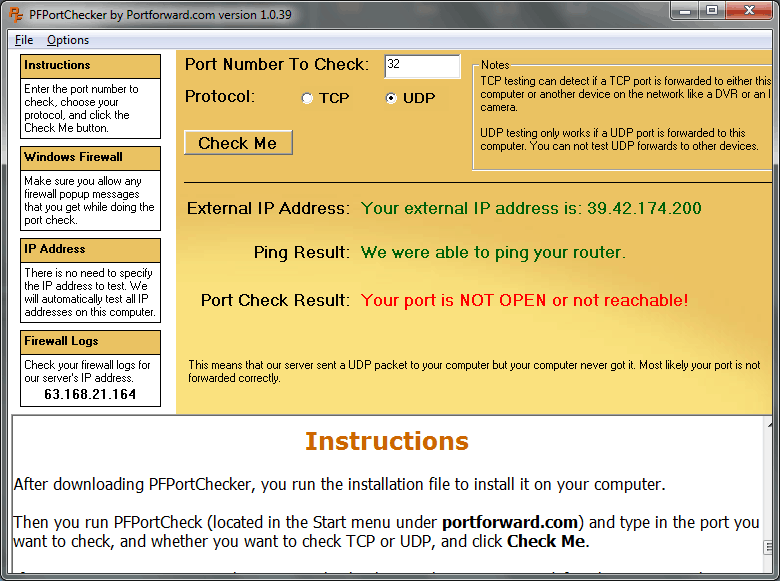 PFPortChecker is a free to use desktop application that is compatible with computers that are running the Windows operating system. The function of the application is simply to test whether or not a certain port that you specify is open under the TCP or UDP protocols. Such a tool can be essential in troubleshooting networking problems when it comes to various commonly used applications such as torrent clients.
To begin, you must download and install the app's setup file that is sized at nearly 150 KB. Such a small setup size shows you how little a strain the app will be on your system resources. Once the app is installed, you can double click its icon to open it. You will find some information text in the left most pane and the bottom pane. The main controls of the application lie in the center of the application. The interface is quite intuitive and you will quickly be able to use everything.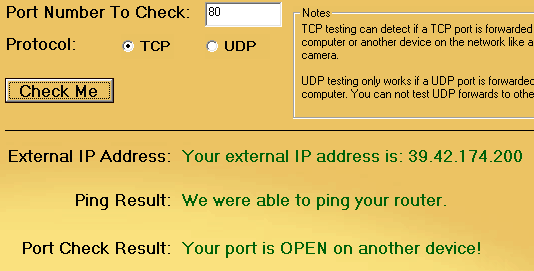 There is a text box where you type your port; two radio buttons let you choose between the TCP and UDP protocols; and a button labeled "Check Me" initiates the test for open ports. If the results are successful i.e. the port is open, you are shown a message as in the image above. However, if the tests fail and the app could not communicate effectively through your specified port, you will something like in the following image:
While the application serves its purpose, it could implement a few further features to improve the user experience. For example, if a port being tested is currently under use, the application only notifies the use that the port is occupied and that testing cannot be conducted; it would be helpful to know which application is actually using that port. Furthermore, different port triggering and forwarding techniques (such as UPnP) could be incorporated into the application.
With its room for improvement aside, this lightweight utility will help any user who is trying to forward ports on the network. You can get the application from here.