We are pretty sure you would have come across an audio or video file having very low volume that even after increasing your speaker volume to 100% still it won't be audible. Putting headphones might help in some cases but when volume is extremely low then that solution may not work. If you are looking for the way to increase the volume of these files then here is simple freeware tool, Audio Amplifier Free.
Audio Amplifier Free is easy to use tool which can boost audio of a video or audio file having very low volume level.  Audio Amplifier Free works with most of the popular audio and video formats and requires few clicks to raise the volume level of the file.
Audio Amplifier Free doesn't modify the quality of video file only the audio will be adjusted with an increase or decrease in volume. Once you download the Audio Amplifier Free application, you need to complete the installation.
Upon installation, you can start the application by double clicking Audio Amplifier Free desktop icon, the user interface of Audio Amplifier Free is very simple and has less GUI elements to interact with. All you have to do click on Load Audio or Video file to browse and select audio/video file of which you want to increase volume.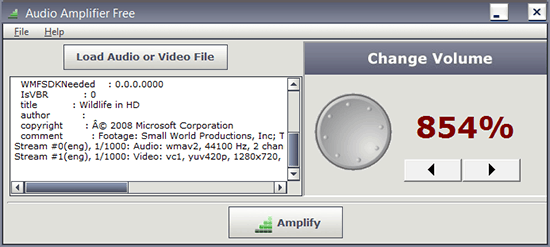 Next use dialer or arrows to increase or decrease the volume gain and click on Amplify button. At the moment Audio Amplifier Free will ask you to browse and select the location to save the modified file. Clicking on save button will start the audio amplification process. Depending upon file size it may take some time, the progress bar will display the status of the process. You will get an message that "conversion is finished!"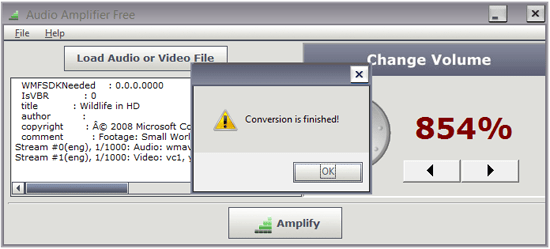 That's it, now open the modified file saved at the location you had selected and notice the magic. In our test we got satisfactory result, we successfully increased the volume of wmv video file. Overall Audio Amplifier Free does its job very well and quickly.