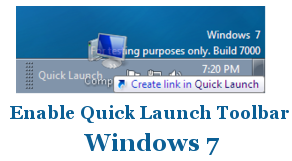 Windows 7 has several new features and some of old features of Windows vista and XP has been removed or disabled in windows 7. One such feature is Quick Launch which is by default disabled in windows 7. Quick Launch is used to open a program quickly from a shortcut on the taskbar with one click.
Since Many Windows users has been using Quick Launch bar from ages, Non availability of Quick launch in Windows 7 beta annoying them a lot. Well truly speaking this feature is still present in windows 7 beta but it has been disabled by default. Here is small guide how to enable and disable quick launch bar in windows 7.
How to Enable/ Disable Quick Launch in Windows 7
1. Click on Start and type gpedit.mst at run
2. Now navigate to User Configuration, Administrative Templates, and Start Menu and Taskbar in left pan of group policy edit window.
3. Now locate Show QuickLaunch on Taskbar in right pan and double click on it.
4. Select Enable click apply and Press ok.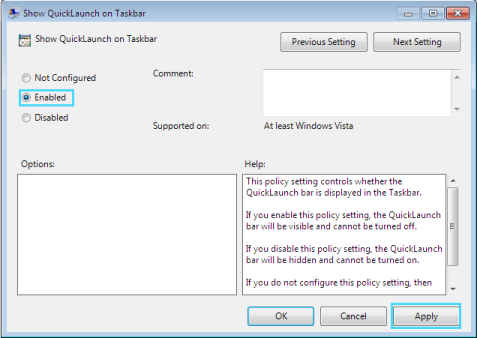 5. Now Right click on Taskbar select Toolbar->New toolbar
6. Navogate to C:\Users\(user name)\AppData\Roaming\Microsoft\Internet Explorer
7. Now SelectFolder Quick Launch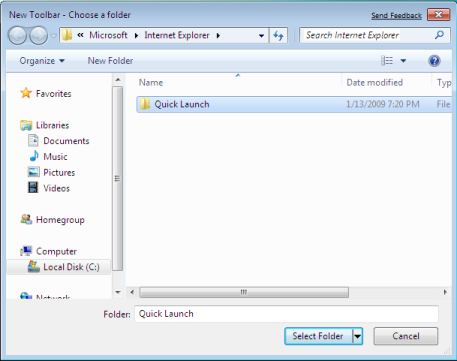 8. Now You Should see Quick Launch Toolbar on Taskbar

How to Add Shortcut to QuickLauch Bar in Windows 7
Click any desktop shortcut and drag on QuickLaunch bar check out below screenshot

You can simply drag Quick Launch at left side towards Start menu to make it look like your windows vista and XP Quick Launch Bar.
Screenshot of Taskbar with Quick Launch Bar