When you open your web browser every day, there are a number of websites you check that cover news websites, social networks, web comics, and so on. Similarly there are various other browser tasks you do not only every day but even more frequently, depending on your job. It would be a great convenience if you could somehow automate these tasks and execute them automatically without manually doing them. Fortunately for Google Chrome users, this is possible thanks to a user-friendly tool called iMacros for Chrome.

iMacros for Chrome is a free to use browser extension for the Google Chrome web browser. As the name of the extension suggests, it lets you create macros for Chrome. For those who do not know, macros are basically a set of instructions that can be repeated to automate tasks. This extension can create record your Chrome tasks as macros and execute them whenever you want. After you install the extension, it adds a new button in the browser's address bar.
When you click on the extension's address bar icon, a new window appears that displays your recorded macros. You can create new macros by clicking on the Record button, executing your tasks in Chrome, and then revisiting the extension's window to click the Stop button. The recorded tasks can be saved by unique names and you can execute them whenever you want by highlighting them in the extension's window and clicking on the Play button. For tasks that you want to play in a loop, you can specify how many times should the loop be repeated by the extension.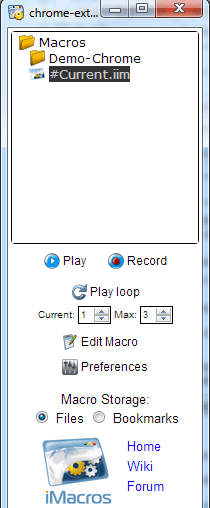 Various other settings such as where the macros as stored can all be modified from the Options page of the extension. Optionally, you can set a password to encrypt the information stored.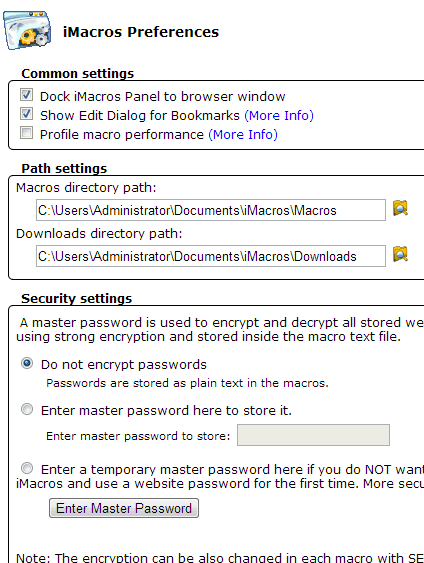 Using the extension's simple operation, you can automate tedious tasks such as web regression testing, performance testing, and web transaction monitoring. Better uses of the app can be made by combining it with other tools such as AdBlock, Google Speed Tracer, Firebug and more.
For developers, the uses of this nifty extension are endless. The online community of iMacros shares new ways to make use of the extension with each other on the extension's online forums.