Microsoft Windows 7 has created huge buzz in this week and with announcement of public windows 7 beta 1 download along with trial product key this buzz has become even bigger now. Unavailability of Windows 7 Beta 1 Download page and Product key page is clear evidence of Failure of Microsoft Server to handle enormous traffic and Microsoft is trying to add more servers to come out of this situation.
Early Today we had posted direct download links to get Windows 7 Beta 1 iso file by this you can download and install windows 7 beta 1 but it will be only for 30 days trial period and if you wish to test windows 7 for longer period you need to have Genuine Windows 7 beta 1 Product key and hurdle in getting free Windows 7 product key is unavailability of Microsoft windows 7 product page.
Well but some one at neowin forum has found the way to instantly get windows 7 beta product key.
Steps to Get Free Windows 7 beta Product Key
1. Login to TechNet Downloads Page with your Windows Live ID
2. Now copy past below link in same browser window where you logged into TechNet.
Windows 7 Beta Product Key For 32-bit Version
Windows 7 Beta Product Key For 64-bit Version
Screenshot of Sample Winodws 7 Beta 64 Bit product Key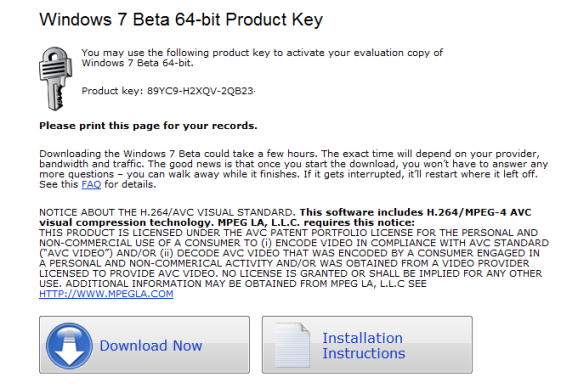 Don't forget that Microsoft has only 2.5 million Windows 7 Product keys to give away so hurry up and grab your Free Windows 7 beta product key as early as possible.