Google Chrome one fastest browser has already made its way to many geek users computer. Google Chrome browser share has been increasing exponentially which may because of aggressive advertising of Google chrome by Google. Still Google Chrome is only available for Windows & Linux operating system and no mac version is available.
There are many users reporting that Google Chrome doesn't work with Microsoft latest operating system Windows 7 64 bit version. Here is solution to make Google Chrome Work on Windows 7 64 bit.
Run Google Chrome on Windows 7 64 bit Version
1. Right Click on Google Chrome Icon
2. Add –in-process-plugins after chrome.exe in Target field.
It should look like this,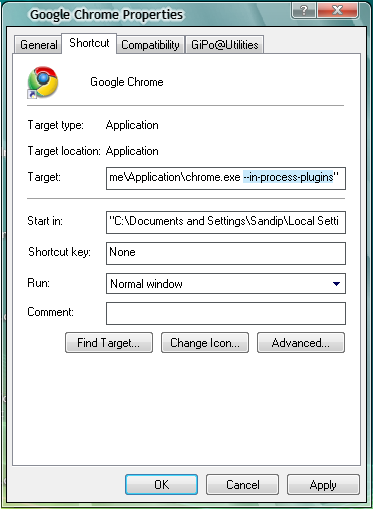 3. Click Apply and save change.
4. Now start Google Chrome and it should work on your Windows 7 64 Bit Version