Galaxy S3, Samsung's next flagship smartphone has been presented as Apple iPhone 4S killer, packed with quad-core Exynos processor and 2 GB RAM, the phone definitely offers the latest and greatest hardware than any other smartphone in the market. Unfortunately the ICS update has some disappointment to international version of Samsung Galaxy S3 owners.
USB Mass Storage (UMS), the feature often used by many, has been removed from Galaxy S3 in ICS update in support for Media Transfer Protocol. Though MTP offers many advantages over simple USB but support for media transfer protocol is yet not available in every operating system. In those cases you will find it hard to connect your S3 to the computer.
If you are reluctant to use third party tools to transfer data from Galaxy S3 then SGS3 Easy UMS app can come handy for you. Developed by XDA-developers forum member, Kopfgeldjaeger, this small app will make Galaxy S3 microSD card to connect as USB mass storage instead using MTP  for transferring phone data.
SGS3 Easy UMS is very simple to use, all you need to do is download and install .apk file and switch the toggle on for UMS Mode, that's it. Though the app is specifically designed for Samsung Galaxy S3 but it may work well with other android smartphones too. Internally SGS3 Easy UMS app all does is execute following commands,
setprop persist.sys.usb.config mtp,adb
echo /dev/block/vold/179:17 > /sys/devices/platform/s3c-usbgadget/gadget/lun0/file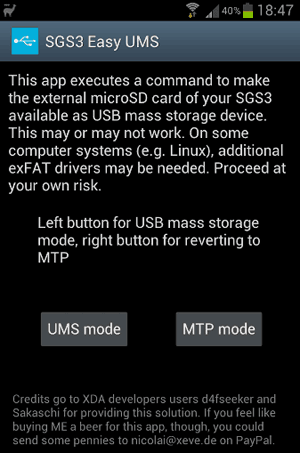 Please note that, once you turn on UMS mode you must manually unmount the external drive created on your PC to prevent any data loss.