Windows 7 Service Pack 1 was released back in February, 21st and it comes with several bug fixes and enhancements however no new features are added.  Despite of Microsoft attempts to kill all the bugs in Windows 7 it may not be 100% crash and error free.  Infect many Microsoft customers are facing issue while trying to install Windows 7 Service Pack 1 where installation fails with 0x8004a029 and 0x80004005 – E_FAIL error message.
Microsoft has confirmed this issue and has released fix it to automatically fix the Windows 7 Sp1 installation issue. Along with Fix it Microsoft has also pointed the cause of this error, This can occur if the number of installed network filter drivers exceeds the specified limit. By default, Windows 7 has a limit of 8, with a maximum allowable limit of 14.
If you want to manually fix Windows 7 Service pack 1 installation failed issue then follow below steps,
1. Click Start (or press win+r shortcut key) , click Run , type regedit , and then click OK .
2. Locate following registry key:
HKEY_LOCAL_MACHINE\SYSTEM\CurrentControlSet\Control\Network\
3. In the right pane, right-click on MaxNumFilters, and then select Modify option.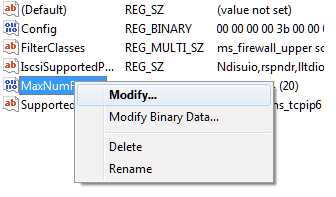 4. Change the value to "14", and click to select the Decimal option, and then click OK.
Note: Default value is 8 & 14 is the maximum
5. Close the Registry Editor.
That's it, now you can try installing Windows 7 SP1 and it should get installed without any hiccups.