Previously here we have covered several fixes for Windows, like Windows 7 Startup black screen of death, Windows 7 endless reboot after upgrade from Windows Vista,  Windows 7 is not genuine error, Computer restart loop etc. Now here is yet another fix for Windows 7.
Microsoft has identified an issue on Windows 7 which crashes (BSOD) during start process with STOP: 0x0000006B error message and fails to boot. The complete error message looks like below,
STOP: 0x0000006B (Parameter1, Parameter2, Parameter3, Parameter4)
PROCESS1_INITIALIZATION_FAILED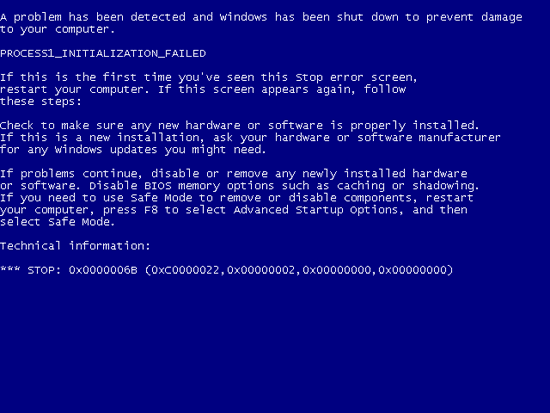 This issue occurs because the Bootcat.cache file is corrupted or because the size of the Bootcat.cache file is changed since the last successful start. Fortunately Microsoft has already released a fix for this issue in Windows 7 Service pack 1.
If you don't want to download Windows 7 SP1 at the moment then here is another simple workaround Start the computer running Windows 7 from the bootable disc drive or from the USB drive by using the Windows installation media & delete the Bootcat.cache file, and then restart the computer.  The Bootcat.cache file is located at %SystemRoot%\system32\codeintegrity.