Portable Document Format aka PDF was created by Adobe & is the most popular and widely used file format for printing as well as sharing documents. Since PDF is no longer proprietary format, anyone can create tools and software for opening, viewing or manipulating PDF files, check out this how to edit a PDF guide. On Windows, Adobe Reader X is the free tool from Adobe allows users to open, view or print PDF documents.
The time when you want to either create PDF documents, edit, merge, split, delete or disassembling PDF files you don't have much choices and only option is to purchase paid Adobe Acrobat X suite which starts from $139.00 for standard version to $199.00 for pro version.
We decided to find out free alternatives to Adobe Acrobat X, may not be the exact replacement but can atleast offer some of the basic features of PDF file manipulation. So here we preset you 10 free alternatives to Adobe Acrobat X for PDF file manipulation.
10 Free Alternatives to Adobe Acrobat X Suite For PDF Documents Manipulation
1. Nitro PDF Reader
This one is the #1 tool for PDF manipulation, it includes almost all features that paid Adobe Acrobat X can provide.  From simple PDF viewing/navigating to complex PDF creation, editing & conversions, this tool handles smoothly. Nitro PDF Reader features list is quite long that we find difficult to note down here. Interested users may follow this links for Nitro PDF Reader features list.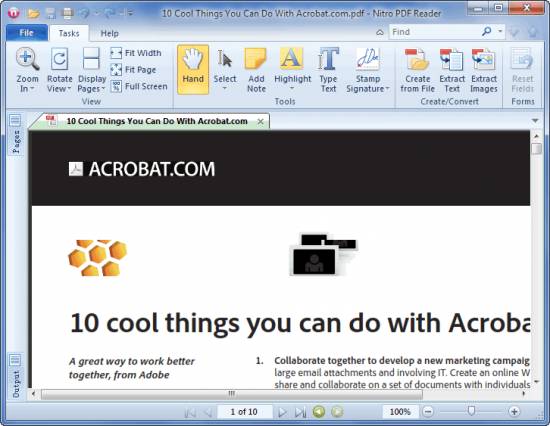 Size – 25 MB | Supported OS Windows 7, Vista & XP (both 32-bit & 64-bit supported)
2. PDF Rider
Developed in C# and .net 3.5 is the good alternative to Adobe Acrobat X & provides basic PDF editing & manipulation. The key features of PDF Rider are merge PDF documents, insert pages from another pdf file, extract, delete, rotate pages in PDF file, encrypt and decrypt a pdf file & burst a document into single pages.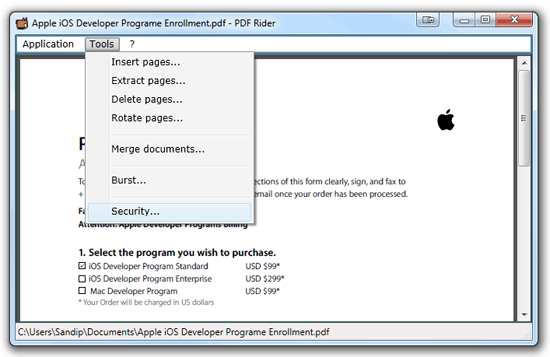 Size – 2.6 MB | Supported OS – Windows 7, Vista & XP.
Small utility developed in java to help users to remove meta data information from PDF documents. Users can edit & customize range of metadata information from PDF files.
Size – 198 Kb | Supported OS – Windows 7, Vista & Xp.
One more powerful PDF manipulation tool provides many options such as edit metadata, merge, edit & delete pages from pdf files, add, remove password, convert images to pdf & vice versa. The most interesting part about Quick PDF Tools is it is integrated with right click content menu for quick access to tools.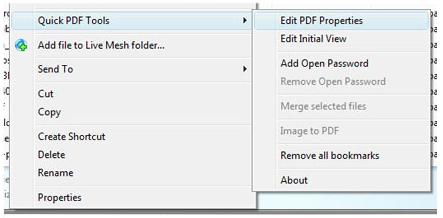 Size – 2.8 MB| Support OS Windows 7, Vista & XP.
As the name suggests this is simple tool which lets you to convert PDF files in to jpg images.  PDF To JPG is small command line application which will split each pages of PDF File into separate JPG Images.

Size 200 Kb | Supported OS Windows 7, Vista & XP
This utility is different from rest of the utilities discussed here. gDoc Creator allows you to convert word, excel, powerpoint documents in to PDF files. If you don't have Office 2010 installed then this utility will definitely come handy when you need to convert office documents into PDF Files. Apart from converting documents into PDF it also serves as XPS File viewer.
Size – 92 MB | Supported OS Windows 7, Vista & Xp
P.S. gDos Creator has been converted into paid gDoc Fusion software however gDoc Creator is still free, one can download trial version of gDoc Fusion and can continue using gDoc Creator beyond 30 days trial period.
The only tools which allows batch PDF manipulation. iPDF Express is the tool which lets you to perform batch PDF edits, merging, encrypt, decrypt, split, burst,  add & remove attachments and much more. Comes with Office 2007/2010 like familiar UI and pretty small in size.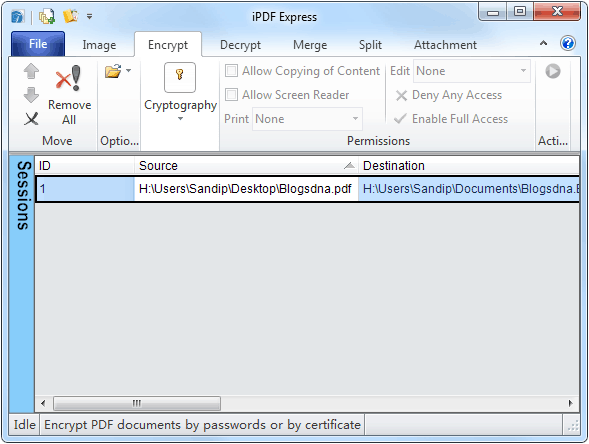 Size 4 MB | Supported OS Windows 7, Vista & XP
A quite unique utility which allows you to added Audio & text annotations to a PDF files.
Size 2 MB | Supported OS Window 7, Vista & Xp
9. PDF-XChange Viewer
This is freeware tool for PDF viewing & editing. The PDF-XChange Viewer is smaller, faster & feature rich compared to other PDF manipulation tools. It also comes with shell extensions meaning you can access all the features from right click content menu.
Most interesting part is unlike other freeware tools which can't be used for commercial purpose, PDF-XChange Viewer can be used for private, commercial or in government institutions without any limitation.
Size:  16Mb | Support OS- Windows 7, Vista & XP
Download PDF-XChange Viewer 4 Lite.
10. PDF reDirect
A fast, free & easy to use PDF manipulation utility, features include encryption, full merging, watermarking, file locking, delete or rename a PDF file, Unprotect PDF Files and PDF preview. PDF Redirect supports wide variety of languages and is absolutely free utility for Windows.
Size 7.1 MB | Supported OS Windows 7, Vista & Xp
This completes our non-exclusive list of PDF manipulation tools which can very well act as alternatives to Adobe Acrobat X suite and might even replace it if you are looking for just basic PDF file manipulation.
For Linux users we have already covered PDFsam, to spit and merge PDF files. Users on non-windows operating system may also use Google Docs for opening PDF files or look up on Google for websites offering PDF manipulation online.
Check out free photoshop ebooks for beginners.