Windows Live Messenger may have some of great features but problems it has created for users are hell lots of problems like sign in issue, uninstaller issue, downloading issue. Most of the threads of any forums are all running around Windows Live Messenger signup issue.
Most of all this issue can be solved by just removing Windows Live Messenger. In order to completely uninstall and remove windows live messenger here is one freeware utility ZapMessenger. ZapMessenger is the one step tool to completely remove Windows Live Messenger, MSN Messenger and Windows Messenger 5.x.
Common Issues Faced by MSN and Windows Live Messenger Users
1. Another version of the product is already installed
2. Your computer has a newer version of MSN Messenger than the one you are trying to install
3. Your computer has a newer version of Windows Live Messenger than the one you are trying to install
4. The feature you are trying to use is on a network resource that is unavailable
5. In some cases the installer can't be found in the Control Panel's Programs applet
6. Control Panel's Programs applet become damaged with a catastrophic failure (0x8000ffff) error
7. Windows Installer is prompting for a missing .msi file which you can't find anymore.
The fixes of all of above issues are available but most of them are complicated and difficult for novice users to understand. For those users ZapMessenger is must required utility.
First thing ZapMessenger will do is attempt to cleanly uninstall Messenger normally and if that fails for any reason, it will forcibly remove Messenger from the Windows Installer engine.
Screenshot of ZapMessenger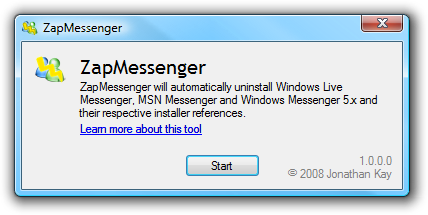 In Order to use ZapMessenger you need to have .Net Framework 2.0 installed on your computer.