A few days back Nero released latest version of its integrated media software suit Nero 9. We had published this news with title 15 days trial Free download of Nero 9 and with response of users we can see how much they are egger to use latest version of Nero CD/DVD Burning Application.
But not all users who are going to try trial Nero 9 will like it or will purchase it. Some of them will be having license key of older version of Nero Toolkit. You need to uninstall Nero 9 once you run out of 15 days trial so you can use your older licensed version of Nero. But It seems many users facing problem while uninstalling Nero 9.
To perform clean uninstallation of any Nero version, Nero has release its own free utility, Nero General CleanTool which lets you to completely uninstall Nero 9 from your computer.
Also Installation problems with Nero 9 can be solved by using Nero General CleanTool. It removes conflicting Nero entries which are or were installed on your computer.
Follow The Steps for How To Completely Uninstall Nero 9
1) Download Nero General CleanTool from here.
2) Unzip downloaded zip file and double click on extracted Nero General CleanTool Exe file.
3) Nero Clean tool will popup with listing of installed Nero Products.
4) Select the check boxes next to the Nero products that you want to remove.
5) Click Clean Button to Proceed for Uninstallation of Selected Nero Product.
6) Once finished Reboot your Computer. That's it we have finished with Uninstallation process.
Screenshot of Nero General Clean Tool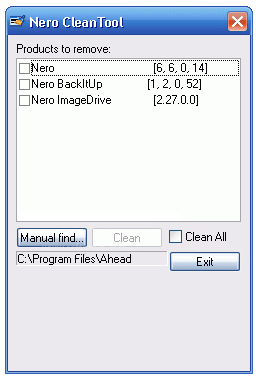 After running Nero General Cleantool you can install any version of Nero Product.