Whole blogospear was buzzing with the launch of Google Chrome Browser. However Google entering into Browser war was totally unexpected, it has created ditch like feeling after supporting open source Firefox and now launching its own browser.
There are several concern raised with Google Chrome Browser, one biggest concern among chrome users is Google Chrome Privacy Policy. With this privacy policy, Google gets enough power to get smallest details like which user is surfing what.
Google Chrome Browser is based on Chromium-Source which is open source project, SRWare has used this open source Chromium to build Iron browser which is a clone of Google Chrome and emulates exactly same features like Google Chrome.
Iron browser has disabled following tracking features
Client id – every Google Chrome Browser has unique client id to track users surfing habits, Google Suggest, Timestamp of installation, URL tracker, RLZ tracking, Chrome Updater Alternet Error Page and Error Reporting.
Another good thing about Iron Browser is, it uses latest version of Webkit 525.19.
Screenshots of Iron 0.2.152.0 Internet Browser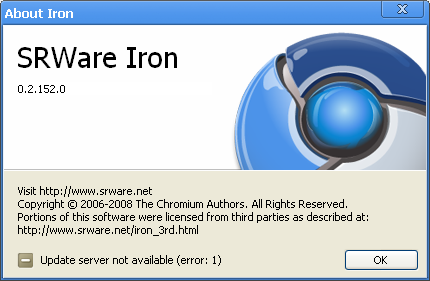 However Iron installer is in German Language but its pretty easy to install Iron on Windows XP and Vista. The size of Iron 0.2.152.0 Installer is about 10 MB.
You can also download source code of SRWare Iron Browser here.